Testing
Home
Essentials of CSS Hacking For Internet Explorer | maratz.com
The summary of our latest project client-side development brought to conclusion that there're are really just a few essential Internet Explorer hacks.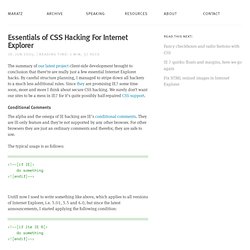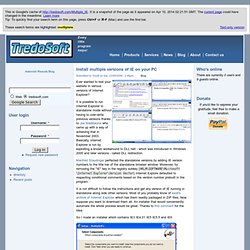 Install multiple versions of IE on your PC | TredoSoft
Ever wanted to test your website in various versions of Internet Explorer? It is possible to run Internet Explorer in standalone mode without having to over-write previous versions thanks to Joe Maddalone who came up with a way of achieving that in November 2003. Basically, Internet Explorer is run by exploiting a known workaround to DLL hell - which was introduced in Windows 2000 and later versions - called DLL redirection.