Strategy
Zero to 60: Ford's Social Media Strategy  This is the keynote presentation from Scott Monty (Head of Social Media @Ford) at the 2009 OMMA Global conference in New York on September 21.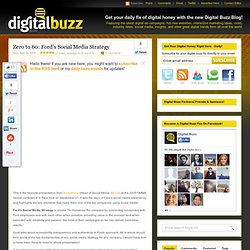 It tells the story of Ford's social media experience and highlights the key elements that make them one of the top companies using social media. Ford's Social Media Strategy is simple "To Humanize the company by connecting consumers with Ford employees and with each other when possible, providing value in the process" and when executed with creativity and passion like most of their campaigns so far, can deliver incredible results.
Scott talks about accessibility, transparency and authenticity in Fords approach. Advertising Age - Digital - Marketers Start to Use Social Networ. 7 Ways to Use Social Media to Build Stunning Brands | Social Med. 25 Social Media Marketing Tips from Dell, Comcast, HP, Wells Far. For Social Media Marketing Services and Training, contact TopRank Online Marketing 1-877-872-6628 .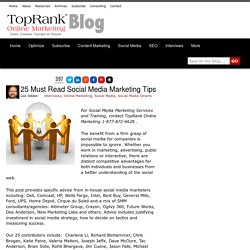 The benefit from a firm grasp of social media for companies is impossible to ignore. Whether you work in marketing, advertising, public relations or interactive, there are distinct competitive advantages for both individuals and businesses from a better understanding of the social web. Web Strategy (Advanced): Applying a Social Computing Strategy to. Warning: For Advanced Strategists only This is for the advanced only, not a company that is still trying to answer "what or why".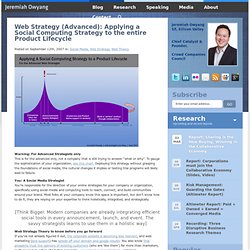 To gauge the sophistication of your organization, see this chart. Deploying this strategy without grasping the foundations of social media, the cultural changes it implies or testing trial programs will likely lead to failure. You: A Social Media Strategist You're responsible for the direction of your online strategies for your company or organization, specifically using social media and computing tools to reach, connect, and build communities around your brand.
Most folks at your company know this space is important, but don't know how to do it, they are relying on your expertise to think holistically, integrated, and strategically. [Think Bigger.
---