Css
This post was originally co-authored in late 2007 by me and Volkan Görgülü, I'm updating it now to improve it a bit and make it more current. You've heard of them, but... Do you really understand them? The name might be a little misleading, because sprites aren't little images like you might be picturing, a sprite is actually one big image. Have you ever seen the CSS technique where the "on" and "off" states of a button are contained within the same image and are activated by shifting the background-position? Here is an example of that on CSS-Tricks.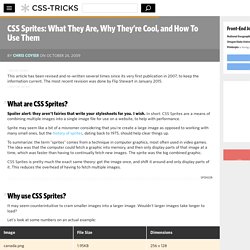 How to Size Text in CSS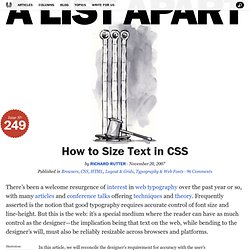 There's been a welcome resurgence of interest in web typography over the past year or so, with many articles and conference talks offering techniques and theory. Frequently asserted is the notion that good typography requires accurate control of font size and line-height. But this is the web: it's a special medium where the reader can have as much control as the designer—the implication being that text on the web, while bending to the designer's will, must also be reliably resizable across browsers and platforms. In this article, we will reconcile the designer's requirement for accuracy with the user's need to resize text on demand, arriving at a best practice that satisfies designers and users and works across browsers and platforms. We'll reach our destination by the traditional method of trial and error.
This page has not been updated for some time and some of the browser versions are obsolete - I'm working on a better format for the page, so check back every now and then :) The following is a range of CSS tests of the most common browsers' support for selectors and pseudo selectors. The tests includes basic stuff from the good old days of CSS1 and funky stuff from the future (CSS3).
CSS Selectors and Pseudo Selectors and browser support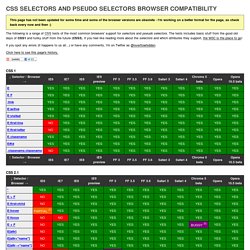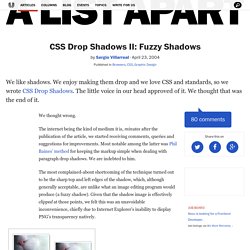 We like shadows. We enjoy making them drop and we love CSS and standards, so we wrote CSS Drop Shadows . The little voice in our head approved of it. We thought that was the end of it. We thought wrong. The internet being the kind of medium it is, after the publication of the article, we started receiving comments, queries and suggestions for improvements.
CSS Drop Shadows II: Fuzzy Shadows
Below is a list of CSS demonstrations that range from the simplest for beginners, to the most complex for advanced users. If you do not find what you are looking for then please contact me with your requirements and I will let you know if it is possible using just CSS. Avatar ParadeSimple image display using :hover.