Advertising
Publications - Agency Darwinism in the Web 2.0 Age - 01/28/2008
BannerBlog : Apple: Sign
Pot Noodle Mine : Case Studies : Resources : thinkbox
The Thinkbox app, which has been specifically designed for the iPad, puts the world of TV advertising at your fingertips. It features all the facts, the figures, and the thinking in TV advertising, including the latest data, inspiring case studies, TV ad galleries and the best research into how and why TV advertising is so effective.
Guess Who's Seeing Web Traffic Soar: Kraft and Co. - Advert
http://www.techcrunch.com/2007/11/07/the-facebook-ad-backlash-be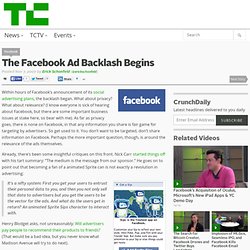 Within hours of Facebook's announcement of its social advertising plans , the backlash began.
One of my consumer internet predictions for 2007 was that social network widgets would find a business model. There are a number of conferences coming up over the next few weeks that will address this, including Graphing Social Patterns , Widget Summit and SNAP Summit .
Is there really an advertising model for social networks? « Ligh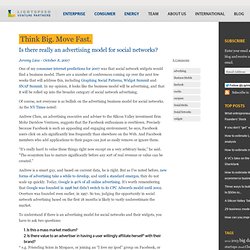 Traditional marketing failing on social networks - vnunet.com