Music Creation
Art
Groovebox Studios Uses Kickstarter To Put The Music First. Groovebox Studios set up shop in Detroit's Russell Industrial Center 16 months ago with a simple premise: one band, one room, one take.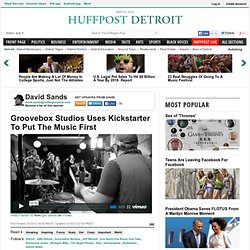 It's not a new concept, but it's one that's fallen out of favor in the remix era. One-take-only means musicians need to come to the studio polished, practiced and ready to play.
FAQ - Ron Wikso - Pro Drum Tracks & Multitrack Loops - Touring & Recording Drummer - Foreigner, Cher, Richie Sambora, David Lee Roth and more. Check here for answers to some commonly asked questions about the drum tracks I can provide for your project.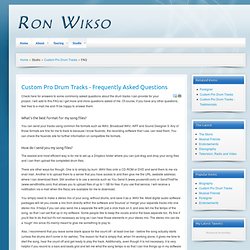 I will add to this FAQ as I get more and more questions asked of me. Of course, if you have any other questions, feel free to e-mail me and I'll be happy to answer them. What's the best format for my song files? You can send your tracks using common file formats such as WAV, Broadcast WAV, AIFF and Sound Designer II. Any of those formats are fine for me to track to because I know Nuendo, the recording software that I use, can read them.
Blasting Room Studios | 1760 Laporte Ave., Ste. 2 | Fort Collins, CO 80521 | 970.416.9292. Gear. Online Session Drummer - Andy Gentile. About | Your Daily Fill. Hey everyone!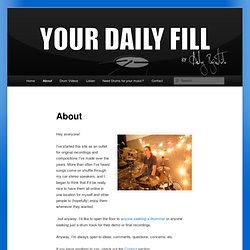 I've started this site as an outlet for original recordings and compositions I've made over the years. More than often I've heard songs come on shuffle through my car stereo speakers, and I began to think that it'd be really nice to have them all online in one location for myself and other people to (hopefully) enjoy them whenever they wanted. ..but anyway. DrumOverdubs.com :: Real Drum Tracks for Your Project. Where music meets. The House of Drums.
---