Apartment
8925-15 Тапет винил Hermitage 8. 8926-14 Тапет винил Hermitage 8. Kitchen Design, Pictures, Remodel, Decor and Ideas - page 14. Модели Кухни Ално, Импулс и Пино. 100 Awesome Kitchen Island Design Ideas. If your kitchen is big enough then you definitely should have a kitchen island there.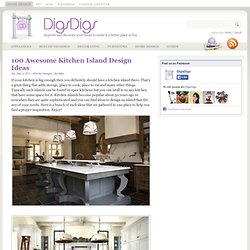 That's a great thing that adds storage, place to cook, place to eat and many other things. Typically such islands can be found in open kitchens but you can istall it on any kitchen that have some space for it. Kitchen islands become popular about 50 years ago so nowadays they are quite sophisticated and you can find ideas to design an island that fits any of your needs. 30 Clever Kitchen Storage Ideas - Channel4 - 4Homes. 20 Free-Standing Kitchen Design Ideas - Channel4 - 4Homes. 13 L-Shaped Kitchen Design Ideas - Channel4 - 4Homes. Underutilized space above the refrigerator has valuable kitchen storage potential. These ideas for cabinets and more help you maximize it. Check out my cool home design on Autodesk Homestyler! © 2012 Autodesk, Inc.
All rights reserved. Use of the service is subject to the Homestyler Terms of Use . Autodesk is a registered trademarks or trademarks of Autodesk, Inc., and/or its subsidiaries and/or affiliates. 3D : Design your rooms in realistic 3d. 3D room planning tool. Plan your room layout in 3D at mydeco. Dimension cleared Close Global shortcuts Open/Close this help Show info about selected component. 20 Ways to Use Color Psychology in Your Home. When you approach home design, you likely do so in a couple of different ways – choosing objects and colors that simply look attractive or using an existing pattern or decor theme to govern your decisions.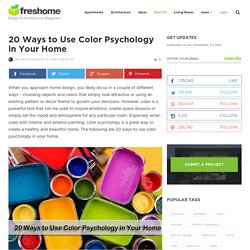 However, color is a powerful tool that can be used to inspire emotions, create space illusions or simply set the mood and atmosphere for any particular room. Especially when used with interior and exterior painting, color psychology is a great way to create a healthy and beautiful home. The following are 20 ways to use color psychology in your home. 1.) Create the illusion of space with bright colors: If you want your home to look larger than it really is – especially when it is about to go on the market – you can use bright and vibrant colors like yellows and eggshells to add space to your home exterior.
Startsida | Inspiration. En tapet förändrar ett rum fort och relativt enkelt.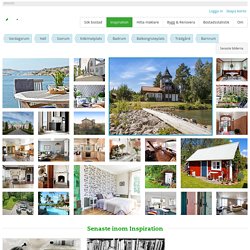 Beroende på vilken typ av mönster du väljer så förändras rumsupplevelsen. Som en mottrend till det kala och vita som länge dominerat våra väggar vill många nu ha det mer ombonat hemma och längtar tillbaka till naturen.
---