Peterepting
Peter Epting
La musique est certainement un des meilleurs moyens de passer un bon moment avec des amis. Qu'il s'agisse d'un concert avec tout un groupe ou d'une virée en voiture avec votre meilleur ami, pouvoir écouter de la musique ensemble est toujours agréable. Et si vous pouviez écouter de la musique avec vos amis, sans pour autant vous trouver au même endroit ? Facebook propose désormais une nouvelle façon d'écouter de la musique entre amis, en vous permettant d'écouter ce que vos amis écoutent au même moment. Vous pourrez également écouter en groupe pendant qu'un ami fait le DJ. Vous pouvez écouter le même morceau, au même moment, et donc profiter des meilleurs instants en même temps, comme si vous assistiez ensemble au même concert.
Listen to Music With Your Friends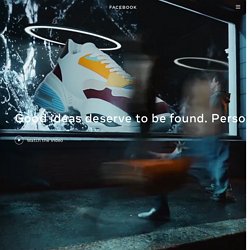 Cell phone Ringtone in the style of a Renaissance Galliard
The Day The LOLcats Died - #SOPA #PIPA Protest Song
Homemade Synthesizer - KITCHEN MUSIC by Stephen J Anderson
232288] | Cinemagraphs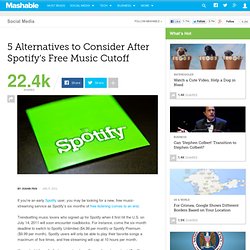 If you're an early Spotify user, you may be looking for a new, free music-streaming service as Spotify's six months of free listening comes to an end . Trendsetting music lovers who signed up for Spotify when it first hit the U.S. on July 14, 2011 will soon encounter roadblocks. For instance, come the six-month deadline to switch to Spotify Unlimited ($4.99 per month) or Spotify Premium ($9.99 per month), Spotify users will only be able to play their favorite songs a maximum of five times, and free streaming will cap at 10 hours per month. It's no doubt the unlimited access to a huge library of music — about 15 million tracks — is one of the features that loyal Spotify users love. SEE ALSO: Shazam's New App Wants to Be Your Music Player Other features include the ability to make playlists of favorite songs (up to 10,000 tracks per list) and social integration to Facebook .
5 Alternatives to Consider After Spotify's Free Music Cutoff
Justin Timberlake just took the next step in his campaign to bring MySpace back. The pop super star and MySpace co-owner joined Panasonic on stage at the 2012 Consumer Electronics Show to announce a new service that will make TV a whole lot more social. Available on the next generation of Panasonic VIERA ConnectT-enabled HDTVs, an app called MySpace TV will allow viewers to see what their MySpace friends are watching, and enable them to make comments through the TV set and via smartphone and tablet devices. The app will be available on Panasonic's new HDTV line, as well as some devices created in 2010, via a software update. Early channels on MySpace TV will focus on music, and then expand to movies, news, sports and reality channels. See Also: The hottest stories from the floor of CES 2012!
Bringing MySpace Back: Timberlake Unveils MySpace TV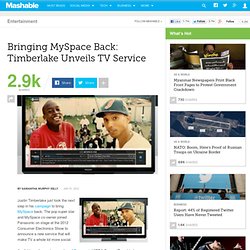 DIGIbux
Im Rahmen von werkstatt.bpb.de veröffentlichen das Redaktionsteam, Lehrerinnen und Lehrer, politische Bildnerinnen und Bildner und andere Bildungsexperten- und expertinnen sowie Praktiker und Praktikerinnen Beiträge und Kommentare zu den Themengebieten Digitalisierung und Migration im Bildungssektor. Die Beiträge sollen informieren, Einblicke in die Theorie und Praxis geben und zur Diskussion und Vernetzung ermuntern. Expertinnen und Experten sowie Praktikerinnen und Praktiker sollen hier die Möglichkeit erhalten, in direkten Kontakt miteinander zu treten, bestehende Bildungsangebote und denkbare neue Vermittlungsstrategien zu bewerten und gemeinsam zu diskutieren. Inhalte der Diskussion können z.B. thematische Konzepte über die Aufbereitung und Vermittlung von Lehrstoff, persönliche Erfahrungsberichte (z.B. über die technische Ausstattung an der eigenen Schule oder bereits durchgeführte Projekte), Experteninterviews oder Online-Umfragen sein.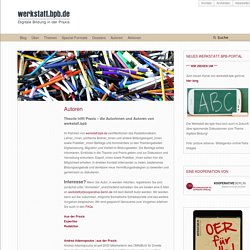 Autoren | Werkstatt
Welcome to YouTube! The location filter shows you popular videos from the selected country or region on lists like Most Viewed and in search results.To change your location filter, please use the links in the footer at the bottom of the page. Click "OK" to accept this setting, or click "Cancel" to set your location filter to "Worldwide". The location filter shows you popular videos from the selected country or region on lists like Most Viewed and in search results.
Kanal von GoogleScienceFair