Ind Learning
We've been using Twitter for about five months.
10 Ways Twitter Has Made Better Teachers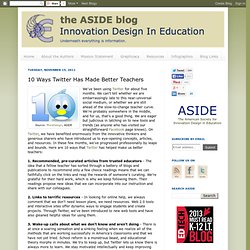 Cramlington Learning Village « Reflective Teacher And Learner
As I talked about in an earlier blog post , next year our school will be taking the next step up on our L2L journey. It's been one that has been going for around 5 years now and has been an exciting learning journey as it has progressed. One of the mistakes we have learnt from during its infancy came from not having a framework which we were driving L2L towards.
The RRRRRvengers!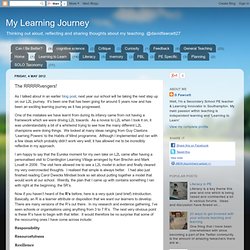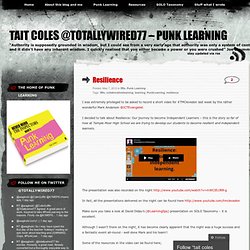 Resilience
I was extremely privileged to be asked to record a short video for #TMClevedon last week by the rather wonderful Mark Anderson @ICTEvangelist . I decided to talk about Resilience: Our journey to become Independent Learners – this is the story so far of how at Temple Moor High School we are trying to develop our students to become resilient and independent learners. The presentation was also recorded on the night http://www.youtube.com/watch?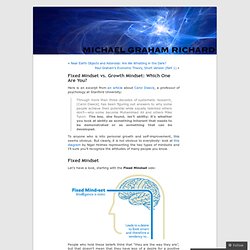 Here is an excerpt from an article about Carol Dweck , a professor of psychology at Stanford University: Through more than three decades of systematic research, [Carol Dweck] has been figuring out answers to why some people achieve their potential while equally talented others don't—why some become Muhammad Ali and others Mike Tyson.
E2F - Independent Learning - Independent learning
Stanford's Carol S. Dweck on how the two different
A group of staff met this week to discuss key skills and attributes to develop our students as independent learners:
Developing Independent Learners | Class Teaching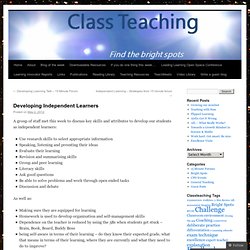 British archaeologist Mary Leakey described her own learning as being "compelled by curiosity." Curiosity is the name we give to the state of having unanswered questions.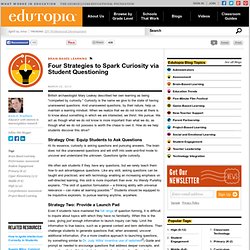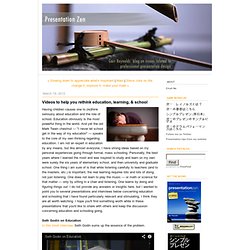 Having children causes one to (re)think seriously about education and the role of school.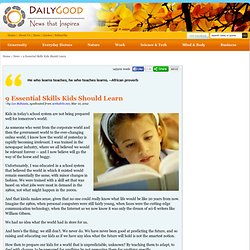 Kids in today's school system are not being prepared well for tomorrow's world.
If you want to get to the top in any field, whether it's business, science, or even construction, you have to have some pretty solid leadership skills.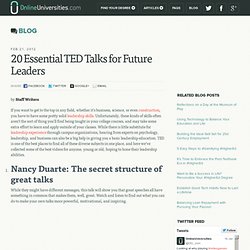 20 Essential TED Talks for Future Leaders
Technology is a tool that can be used to help teachers facilitate learning experiences that address the diverse learning needs of all students and help them develop 21st Century Skills. At it's most basic level, digital tools can be used to help students find, understand and use information.
Developing Independent Learners « Reflective Teacher and Learner
As part of the work I have been doing as part of my PLC group (see this previous post about PLC's) I have been thinking a lot recently about different strategies that could be used to help pupils become better independent learners. The PLC group began our work by discussing what was meant by 'independent learning'. Could you be an independent learner whilst working in a group?
Today's research in adolescent development validates a statement made over 100 years ago by the great African American educator, Booker T. Washington. He said, "I have learned that success is to be measured not so much by the position that one has reached in life as by the obstacles overcome while trying to succeed."
What Teens Learn by Overcoming Challenges
intro-img-1-cramlinton-cycle.png 646×654 pixels
Discovering How to Learn Smarter
With | alistair smith learning
For Each to Excel:Preparing Students to Learn Without Us
International Society for Technology in Education - Learning & Leading > Feature: Teach Your Students to Fail Better
What should we be teaching? « The Window
The Power of Feedback
5 Basic Elements of Cooperative Learning - Cooperative Learning
Today's Teachers Must Become Connected Educators | Teach.com
OMG: Engaging Students on Their Own Terms
Reflective Teacher and Learner
Pedagogy and People over Places and Spaces | A View from the Middle Pedagogy and People over Places and Spaces | Thoughts on Learning with Middle School Students
Thoughts and Crosses - Solving Equations Differentiation - reflectivemathsteacher's posterous
Where does the time go!?
3 Tips on Flipping Your Classroom with #iPads #flippedclassroom
Think For Yourself - Before It's Too Late...
How | alistair smith learning