I pad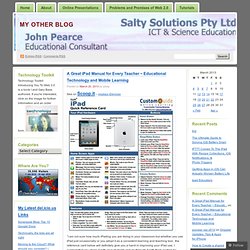 A Great iPad Manual for Every Teacher ~ Educational Technology and Mobile Learning | My Other Blog
Posted on March 20, 2013 by johnp See on Scoop.it – mrpbps iDevices "I am not sure how much iPading you are doing in your classroom but whether you use iPad just occasionally or you adopt it as a consistent learning and teaching tool, the reference card below will definitely give you a hand in improving your iPad use.
PE Department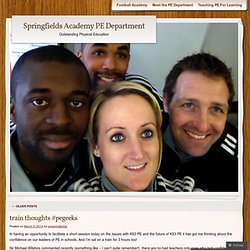 At The Springfields Academy we hold AG&T events once a term for different year groups. These events offer the most Able, Gifted and Talented pupils in our local SEN schools to come together, collaborate and share good practice and also improve on skills, techniques and tactics. Our aim is to engage and inspire pupils and offer ideas and concepts. We hope that their participation will help them to consider sport as a future career path.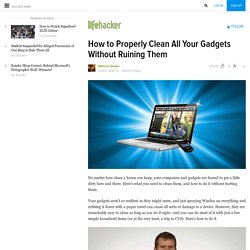 No matter how clean a house you keep, your computers and gadgets are bound to get a little dirty here and there. Here's what you need to clean them, and how to do it without hurting them. Your gadgets aren't as resilient as they might seem, and just spraying Windex on everything and rubbing it down with a paper towel can cause all sorts of damage to a device. However, they are remarkably easy to clean as long as you do it right—and you can do most of it with just a few simple household items (or at the very least, a trip to CVS). Here's how to do it. Clean Your Monitor With White Vinegar
How to Properly Clean All Your Gadgets Without Ruining Them
Over the last couple of months Evernote has become my favorite tool for bookmarking websites and saving files. Evernote allows me to access my bookmarks and files from all of my devices whenever I'm connected to the Internet. I also like the tagging and sorting options that I have available to me in Evernote. Before using Evernote I used Google Bookmarks. While Google Bookmarks is good, Evernote's tagging and sorting options are much better.
The use of technology in education has evolved rapidly in the last decade, with schools, colleges and universities striving to create high-quality learning experiences through its effective application. In the 1990s, school invested in computer suites, and towards the end of the century began to use the internet. The turn of the century saw the development of wireless networks and, in many schools, a shift towards laptops as a means of increasing student access to computers. Schools and colleges invested heavily in virtual learning environments to provide anytime, anyplace, 24-7 learning for students, with mixed results. Recently, the invention of SmartPhones and tablet devices have brought with them mobility, flexibility and even greater capacity to access learning materials anyplace, anytime.
Five steps to a sustainable 1-1 student device roll-out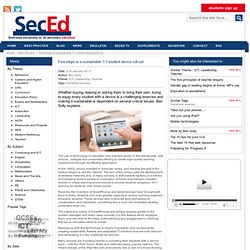 As much as I love the iPad, iPhone, and iOS, I have to admit that I have become intrigued by some of the new and exciting features offered by some of the competing Android phones and tablets. I do appreciate how easy iOS is to learn, use, and set up. I still feel that iOS is the most user friendly mobile operating system and is still the operating system I would recommend to family members and friends. I think iOS is especially a good choice for those who are new to smartphones and tablets. However, I sometimes wish for some of the more advanced features now being offered on some Android phones and tablets such as an integrated stylus, the ability to run multiple apps on the screen at once, and all the neat things that you can do with live widgets on your app screen and lock screen.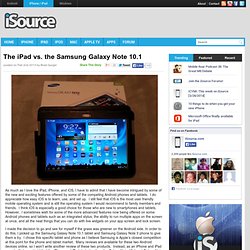 The iPad vs. the Samsung Galaxy Note 10.1
Top 40 iPad apps for education & showing learning | Mark Anderson's Blog
Mike Gunn - Failing to Learn Better: Bring Your Own Device in schools - an implementation strategy Part 1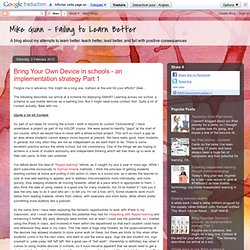 Forgive me in advance, this might be a long one. Cartoon at the end for your efforts? Deal...
currently, to help lead senior leaders through the current maze of possibilities with technology supporting learning. However, several recent experiences have led me to resurrect my iPad series of articles to try to help leaders in the vacuum before my book is complete. All of these topics are explored much more in the book, but I hope to at least make some stop to consider with this article. Some sections of paragraphs I have extracted from the draft chapters of my book. So, the article:
1:1 Learning Technology and iPad Articles by James Bowkett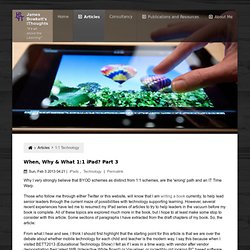 Kanex MeDrive – unlimited storage for the iPad? | PEorBust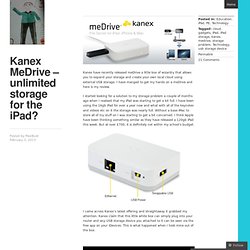 Kanex have recently released meDrive a little box of wizardry that allows you to expand your storage and create your own local cloud using external USB storage. I have manged to get my hands on a meDrive and here is my review. I started looking for a solution to my storage problem a couple of months ago when I realised that my iPad was starting to get a bit full. I have been using the 16gb iPad for over a year now and what with all of the keynotes and videos etc on it the storage was nearly full.
1-to-1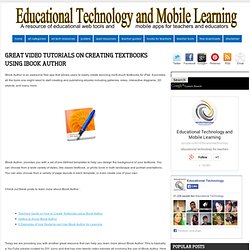 iBook Author is an awesome free app that allows users to easily create stunning multi-touch textbooks for iPad. It provides all the tools one might need to start creating and publishing ebooks including galleries, video, interactive diagrams, 3D objects, and many more. iBook Author provides you with a set of pre-defined templates to help you design the background of your textbook.
Great Video Tutorials on Creating Textbooks Using iBook Author
Instructional technology takes so many forms. In some buildings that may mean simply having a computer lab of desktop computers. In others, you may find SMART Boards and laptops in every room. And, in some of the more advanced classrooms, you may find an Apple TV serving as a media hub for a teacher (and possibly students) with an iPad. The question, "What can I do with an Apple TV in the classroom?" has been asked of me quite a bit – this post should help to identify how to set it up, what it can do, and some ways you can use it in the classroom.
Apple TV in the Classroom by @InstTechTalk
Online, in workshops, and even with friends, I frequently get asked What can the iPad actually do? as a sort of challenge to the worth of the device. I would rather that they ask, What can you actually do with an iPad? So last week, in preparing for the New England Reading Association Conference and the NYSCATE Mobile Learning Summit , I decided to change my approach. Rather than structure my presentations by tool, or by app, or even by project, I organized myself around desired student outcomes – aka. what students can actually do.
My brother recently built a shelf for my daughter's room. It is in the likeness of a boat that she will one day spend sunny afternoons on, cruising around Plymouth harbor. He used a saw, a hammer, glue and other assorted tools that I couldn't explain or name. I am not a carpenter nor am I skilled at building anything with my hands. However, I do know this.
Lenny Gonzales By Terry Heick When it comes to deciding how or whether to use iPads, schools typically focus on budget issues, apps, networking logistics, check-in and check-out procedures, school and district tech-use policies, hardware precautions, and aspects of classroom management.
evsport | A fine WordPress.com site
Teaching our kids to be creative is just as important as teaching them critical thinking skills.Creativity open up students mind to new learning horizons and makes them capable of tackling new and novel situations way better than any explicit instruction would do. We, in Educational Technology and Mobile Learning , strongly believe in the importance of creativity in education and we have dedicated a whole section in this blog to articles covering this topic. We have also reviewed some web tools that teachers can use to integrate creativity in their instruction and today we are going to introduce you to an awesome set of iPad apps that can do the same job but this time for young learners in primary schools. 1- Draw Free for iPad This is a great free iPad app that lets users create beautiful drawings.
Reflection app for PC : Show your iPad on your IWB screen
Creating a plan with students to use cell phones for learning
Five tools for global educators
Erin School to kids: BYO gadgets - m.JSOnline.com
In Some Cash-Strapped Schools, Kids Bring Their Own Tech Devices
Supporting the Reluctant Teacher - 21cLN
Turning Students Into Teachers
Fix Safari Crashing on iPad and iOS 5
Getting teachers on board the iPad Express
Education Week Teacher: Redefining Instruction With Technology: Five Essential Steps
Reflecting on two years of 1:1 [guest post]
Of Course iPads Belong In Classrooms — It's All About Balance