biology
Get flash to fully experience Pearltrees
As anyone who's ever encountered babies in the wild can tell you, they're shiftless little balls of deception and greed. Those of us who stand up to walk, and sit down to poop may not be Mother Theresa, but it turns out we had a long way to go from our babbling drooling selves. Yes, unless you're a borderline sociopath today, you were probably at your worst before you ever uttered a word.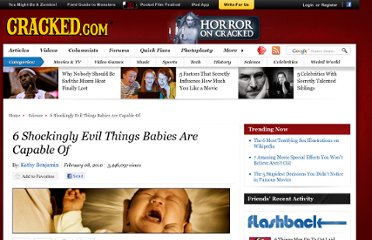 Maggie Koerth-Baker is a guest blogger on Boing Boing. A freelance science and health journalist, Maggie lives in Minneapolis, brain dumps on Twitter, and writes quite often for mental_floss magazine. One person outside: But two people "inside": That's the gist of the chimera, a human being who carries the DNA (and sometimes the body parts) for two.
Denisova hominins ( / d ə ˈ n iː s ə v ə / ), or Denisovans , are Paleolithic -era members of the genus Homo that may belong to a previously unknown species of human . In March 2010 , scientists announced the discovery of a finger bone fragment of a juvenile female who lived about 41,000 years ago, found in the remote Denisova Cave in the Altai Mountains in Siberia, a cave which has also been inhabited by Neanderthals and modern humans . [ 1 ] [ 2 ] [ 3 ] A tooth and toe bone belonging to different members of the same population have since been reported.
Physarum polycephalum , also referred as slime molds , belongs to the supergroup Amoebozoa , phylum Mycetozoa , and class Myxogastria . P. polycephalum , often referred to as the "many-headed slime," is a slime mold that inhabits shady, cool, moist areas, such as decaying leaves and logs. It is sensitive to light; in particular, light can repel the slime mold and be a factor in triggering spore growth. [ edit ] Characteristics
Opinion By LEE DYE March 11, 2009 All those hours practicing the piano pay off big time by biologically enhancing a person's ability to quickly recognize and mentally process sounds that carry emotion, according to a new study.
Semen , also known as seminal fluid , is an organic fluid that may contain spermatozoa . It is secreted by the gonads (sexual glands) and other sexual organs of male or hermaphroditic animals and can fertilize female ova . In humans, seminal fluid contains several components besides spermatozoa: proteolytic and other enzymes as well as fructose are elements of seminal fluid which promote the survival of spermatozoa and provide a medium through which they can move or "swim". Semen is produced and originates from the seminal vesicle , which is located in the pelvis.
Leaf-cutting ants and their fungus farms are a marvel of nature and perhaps the best known example of symbiosis, the mutual dependence of two species. But the textbook accounts, it turns out, do not tell even half the story. From research in the past five years the ants' symbiosis has emerged as far more intricate than it appears, involving not two but at least four species, their lives knotted together in a ruthless yet highly successful struggle for survival. The ants and their agriculture have been extensively studied over the years, but the recent research has uncovered intriguing new findings about the fungus they cultivate, how they domesticated it and how they cultivate it and preserve it from pathogens. For example, the fungus farms, which the ants were thought to keep free of pathogens, turn out to be vulnerable to a devastating mold, found nowhere else but in ants' nests.
November 13, 2007 In recent tests designed to assess monkeys' sense of fairness, a group of brown capuchin monkeys "went on strike" and refused to perform routine tasks when they saw others receiving greater rewards for the same tasks. The more effort the primates used to earn a reward, the more upset they appeared to be at the inequity, according to scientists who conducted the research.
As any doctor, nurse practitioner or other health care professional knows, the body is an interesting system. In many ways, it's like a machine, with many complex parts. There is a lot to learn about the body and how it works, as well as how its different systems interact to create a larger system.