Vive les médias ! - International
World's first pro-Israel international news network, Jewish News 1, to begin broadcasts Wednesday, offering 'everything that interests Jews' in eight different languages Jews of the world, prepare your remote controls: The first-ever Jewish news network will begin broadcasts this Wednesday. Jewish News 1 (JN1) was born as an alternative to the world's leading news networks – CNN, Fox News and Sky News. But its main goal is to serve as the Jewish version of al-Jazeera, which has won the hearts of tens of millions of Arab viewers over the past 15 years. According to the Makor Rishon newspaper, the channel will be broadcast via satellite to Europe, North America and the Middle East. In Israel it will be offered by the Yes satellite company.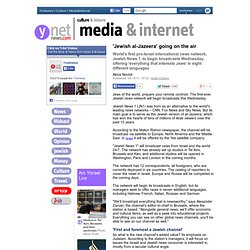 'Jewish al-Jazeera' going on the air - Israel Culture, Ynetnews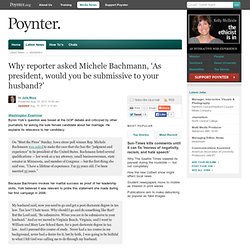 Why reporter asked Michele Bachmann, 'As president, would you be submissive to your husband?'
Washington Examiner Byron York's question was booed at the GOP debate and criticized by other journalists for asking the sole female candidate about her marriage. He explains its relevance to her candidacy: On "Meet the Press" Sunday, Iowa straw poll winner Rep. Michele Bachmann was asked to make the case that she has the "judgment and experience" to be president of the United States. Bachmann listed several qualifications — her work as a tax attorney, small businesswoman, state senator in Minnesota, and member of Congress — but the first thing she said was, "I have a lifetime of experience.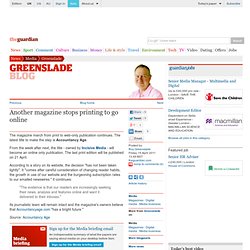 Another magazine stops printing to go online | Media
The magazine march from print to web-only publication continues. The latest title to make the step is Accountancy Age. From the week after next, the title - owned by Incisive Media - will become an online only publication.
Journalists on Twitter: how do Britain's news organisations tweet? Data & visualisation | News
What do Britain's journalists tweet about?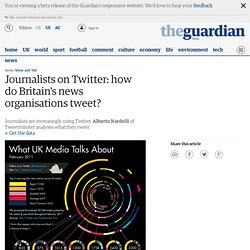 A history of dance music | Music
News of the World to close on Sunday – live coverage | Media
5.16pm: This live blog will now continue here.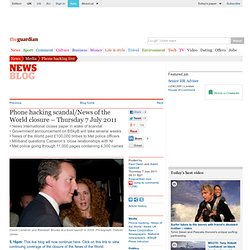 En bref - Rue Frontenac, la fin
Rue Frontenac met fin à sa version hebdomadaire imprimée, a annoncé hier soir le coordonnateur général Richard Bousquet, faisant valoir que «les revenus financiers n'étaient toujours pas au rendez-vous après six mois de publication». «C'est le coeur gros que les artisans de Rue Frontenac annoncent que le numéro de jeudi dernier (28 avril) [le 25e] était le dernier à être imprimé dans la formule actuelle, qui prévoyait une distribution de 75 000 exemplaires gratuits dans le Grand Montréal, à Québec, en Mauricie, en Outaouais et en Estrie», a-t-il écrit sur le site Internet Ruefrontenac.com, dont les activités sont maintenues.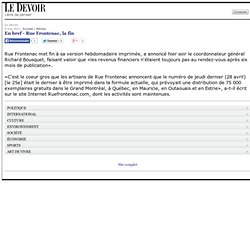 Several daily quality newspapers enjoyed a month-on-month uplift in sales in July as the phone-hacking scandal dominated the news agenda, with the i overtaking sister title the Independent for the first time.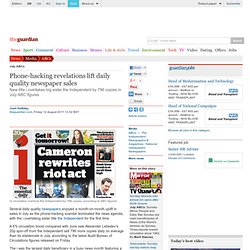 Phone-hacking revelations lift daily quality newspaper sales | Media