31 Octobre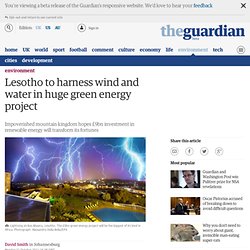 Lesotho to harness wind and water in huge green energy project | World news
The tiny mountain kingdom of Lesotho is to harness the power of wind and water in a $15bn (£9bn) green energy project, the biggest of its kind in Africa.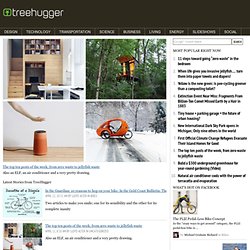 Which Animal Best Represents Canada? (Survey)
The top ten stories of 2013 From Raspberry pi to octopi, the top ten stories of the year are ... by Lloyd Alter in Uncategorized Top 10 bike stories of 2013 2014 is upon us and now is a good time to look back ... by Michael Graham Richard in Bikes 2013: The year in urbanism A whole lot of very long posts about the design of our cities, ... by Lloyd Alter in Urban Design The top ten design stories of 2013 It seems that our readers really like tiny houses! by Lloyd Alter in Green Architecture 17 Best DIY gadget projects of 2013 We do love a good gadget project. From tinkering with Raspberry Pi microcomputers ...
Mexican Primera Division side Jaguares have taken things to the next level in terms of attracting more followers to their club Twitter account by pasting their official handle on their club shirts.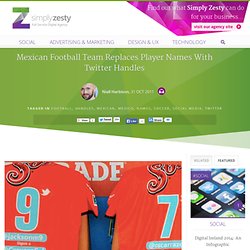 Football team in Mexico replace players names with Twitter handles
Daily Pennsylvanian tweets bigger words than Hamlet
Telegraph | Language Log Actor Ralph Fiennes complained recently that the English language "is being eroded" and blamed "a world of truncated sentences, soundbites and Twitter." Et tu, Ralphie? In response, Mark Liberman — a linguistics professor at the University of Pennsylvania and one of the keepers of the Language Log blog — ran an analysis of noted works such as Shakespeare'a Hamlet, "a number of" Jeeves stories by P.G. Wodehouse and "the 100 most recent tweets from the Daily Pennsylvanian" student newspaper. "I figured that the DP ought to count as a good representative of the kids today who are responsible for the alleged word-shortening trend," Liberman writes. The results, in mean word length: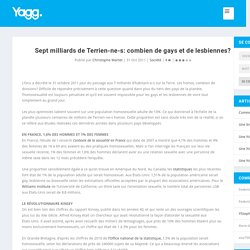 Sept milliards de Terrien-ne-s: combien de gays et de lesbiennes?
L'Onu a décrété le 31 octobre 2011 jour du passage aux 7 milliards d'habitant-e-s sur la Terre. Les homos, combien de divisions? Difficile de répondre précisément à cette question quand dans plus du tiers des pays de la planète, l'homosexualité est toujours pénalisée et qu'il est souvent impossible pour les gays et les lesbiennes de vivre tout simplement au grand jour. Les plus optimistes tablent souvent sur une population homosexuelle adulte de 10%.