22 Juillet
Chez moi. (L'à-Côté de l'Actu (22 Juillet))
Israeli woman dies of allergic reaction after eating Nutella at Tel Aviv restaurant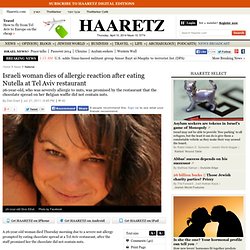 Unfortunately, I understand this situation all too well. Living in Israel, in 1982, my mother ate some salami which contained lots of soy, to which she was highly allergic. She always checked contents very carefully before she ate anything.
New York city extends gay marriage plans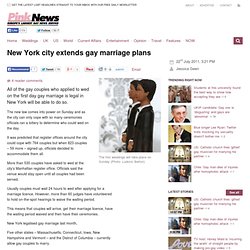 All of the gay couples who applied to wed on the first day gay marriage is legal in New York will be able to do so. The new law comes into power on Sunday and as the city can only cope with so many ceremonies officials ran a lottery to determine who could wed on the day.
Le Futuroscope a accueilli ce vendredi son 40 millionième visiteur depuis son ouverture en 1987, confortant l'embellie récente de sa fréquentation, a-t-on appris auprès des responsables du parc. Youssef Souidi, 31 ans, originaire de Goussainville (Val d'Oise) a été la 40 millionième personne à visiter le parc de loisirs poitevin à vocation ludique et pédagogique. Accompagné de son épouse et de ses deux enfants, le visiteur a bénéficié vendredi d'une "journée VIP", avec un coupe-file pour les attractions et des repas offerts.
Poitiers: le Futuroscope accueille son 40 millionième visiteur