Téléphone phone handy
Comment synchroniser l'iPhone en WiFi ?
Par Florian Publié le 16 oct Voir dans iTunes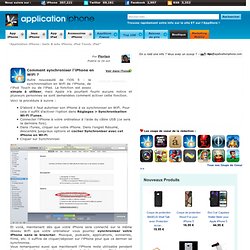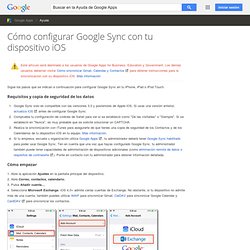 Sigue los pasos que se indican a continuación para configurar Google Sync en tu iPhone, iPad o iPod Touch. Requisitos y copia de seguridad de los datos Google Sync solo es compatible con las versiones 3.0 y posteriores de Apple iOS. Si usas una versión anterior, actualiza iOS antes de configurar Google Sync. Comprueba tu configuración de cookies de Safari para ver si se estableció como "De las visitadas" o "Siempre". Si se estableció en "Nunca", es muy probable que se solicite solucionar un CAPTCHA.
Configurer votre appareil mobile Apple pour Google Sync : Agenda et Contacts Sync - Centre d'aide Google Mobile
iTunes: Syncing address book contacts with your Google contacts
Languages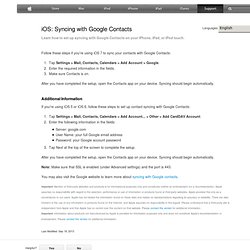 Langues Si vous rencontrez des difficultés lorsque vous synchronisez, via USB, vos contacts ou vos calendriers sur l'iPhone, l'iPad ou l'iPod touch avec iTunes pour Windows, cet article peut vous être utile. Remarque : cet article ne s'applique qu'à la synchronisation via USB.
iPhone, iPad, iPod touch : dépannage des problèmes de synchronisation des contacts et des calendriers via USB sous Windows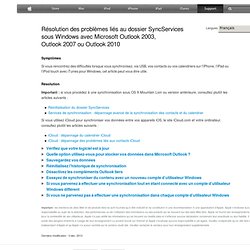 HTC Sensation, Téléphone portable : Tous les mobiles
* Conformément aux dispositions des articles L. 121-20 et L. 121-20-2 du Code de la Consommation, l'Acheteur bénéficie d'un délai de sept (7) jours francs à compter de la réception du Produit pour demander son échange ou remboursement sans pénalités, à l'exception des frais de retour, et/ou pour renoncer au service si l'Acheteur a commandé un Produit avec Abonnement ou une Carte Prépayée SFR La Carte.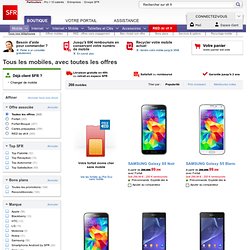 Synchronisation de votre iPad, iPhone ou iPod touch avec iTunes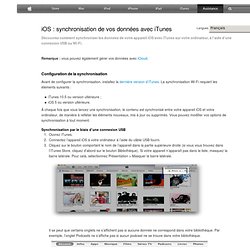 Langues
Synchronisation des données : iPhone / ordinateur de bureau
Pour les chefs d'entreprise, l'équipement informatique ne se limite pas à un ordinateur de bureau.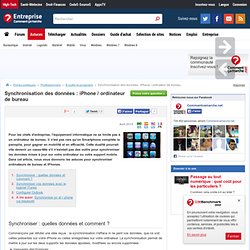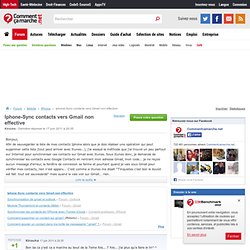 Iphone-Sync contacts vers Gmail non effective
Bonjour, Afin de sauvegarder la liste de mes contacts Iphone alors que je dois réaliser une opération qui peut supprimer cette liste (tout peut arriver avec Itunes...), j'ai essayé la méthode que j'ai trouvé un peu partout sur Internet pour synchroniser ces contacts sur Gmail avec Itunes. Sous Itunes donc, je demande de synchroniser les contacts avec Google Contacts en rentrant mon adresse Gmail, mon code... je ne reçois aucun message d'erreur, la fenêtre de connexion se ferme et pourtant quand je vais sous Gmail pour vérifier mes contacts, rien n'est apparu...
Depuis le 30 janvier 2013, le protocole Exchange ActiveSync, qui permet de bénéficier du push mail et de synchroniser simultanément courriers, contacts et agenda, n'est plus pris en charge pour les nouvelles configurations de compte.
Synchroniser votre agenda Google avec l'iPhone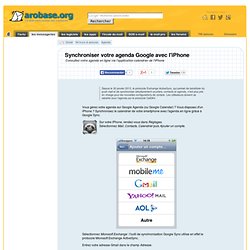 Configurer votre appareil mobile Apple pour Google Sync - Centre d'aide Gmail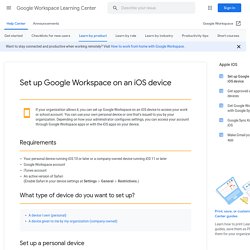 Follow the steps below to setup Google Sync on your iPhone, iPad, or iPod Touch. Requirements and Backing Up Data Google Sync is only supported on Apple iOS versions 3.0 and above. If you're on an earlier version, update iOS before setting up Google Sync. Check your Safari cookies settings to see if it is set to "From Visited" or "Always". If it's set to "Never", you're more likely to be prompted to solve a CAPTCHA.
Langues
iTunes : synchronisation des contacts de votre carnet d'adresses avec vos contacts Google