Data Recovery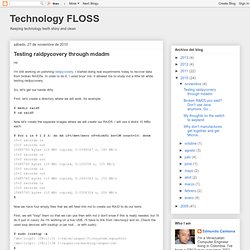 Testing raidpycovery through mdadm
Hi! I'm still working on polishing raidpycovery. I started doing real experiments today to recover data from broken RAID5s. In order to do it, I used linux' md. It allowed me to study md a little bit while testing raidpycovery.
R-STUDIO is a family of powerful, cost-effective disk recovery software. Originally developed by R-Tools Technology, Inc. for experienced data recovery professionals, R-Studio has been redesigned as a scalable, user-friendly all-in-one data recovery tool. By coupling our most advanced file recovery and disk repair technology with an intuitive user-interface, R-Studio provides enterprise and professional-level data recovery specialists the tools they need without hindering the experience of entry-level users. R-Studio runs on Mac, Windows, and Linux * and can recover data from local disks, removable disks, heavily corrupted disks, unbootable disks, clients connected to a local area network or the Internet. As a highly scalable, flexible, and deployable data recovery solution, R-Studio is an invaluable tool for data recovery operations large and small.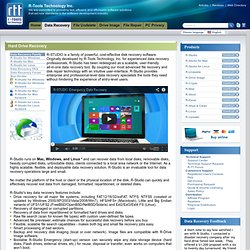 Disk Recovery Software and Hard Drive Recovery tool for Windows
raidpycovery : Code : Edmundo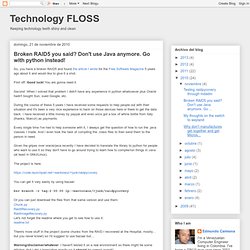 Broken RAID5 you said? Don't use Java anymore. Go with python instead!
So, you have a broken RAID5 and found the article I wrote for the Free Software Magazine 5 years ago about it and would like to give it a shot. First off: Good luck! You are gonna need it.
In this article I will describe an experience I had that began with the failure of some RAID5 disks at the Hospital of Pediatric Especialties, where I work. While I wouldn't wish such an event on my worst enemy, it was something that made me learn about the power of knowledge—a deep knowledge, which is so important in the hacking culture. Are you in dire straights with your hard drive? We at Free Software Magazine had a major hardware crash. The good guys at DTI DATA performed hard drive recovery and saved our magazine! This article has downloads!
How to recover from a broken RAID5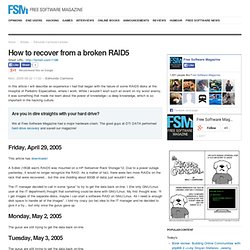 Let us find the correct RAID parameters for you A RaidProbe can be taken if you do not find your RAID's correct parameters with RAID Reconstructor or if you simply do not have the time to work through RAID Reconstructor yourself. Take advantage of our experience. Since intruduction of the RaidProbe service we have helped recover over 500 RAID systems.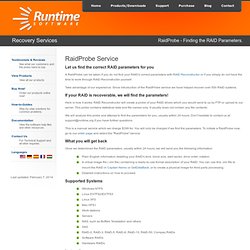 Data Recovery Software Products - Runtime Software Products