Blog
Facebook Comments for WordPress
Installing Headway | Headway Videos
The Unofficial Guide to Headway Themes | Headway Hub
There are many different ways to make money from your WordPress website. You don't have to create your own products to monetize your site. While at BlogWorld in Las Vegas, I met Darren Rowse from ProBlogger.net and he shared with us a great mind map on ways to make money from your blog. I love this mind map, because it visually demonstrates what I teach in the Website Creation Workshop: There are MANY ways to make money with a Website!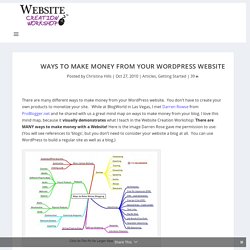 Ways to Make Money From Your WordPress Website | WebsiteCreationWorkshop.com
BuzzVoice Makes Your Favorite News and Blogs TALK
"I hate popups – just like every other internet user. But this is different. It really works. In fact, it works really, really well. This is the type of tool that will literally make the difference between success and failure in your online business.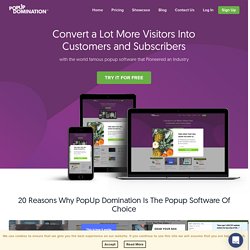 PopUp Domination | How To Explode Your Mailing List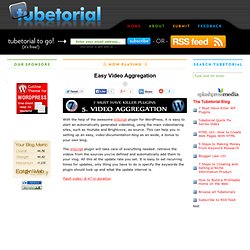 With the help of the awesome ViScript plugin for WordPress, it is easy to start an automatically generated videoblog, using the main videosharing sites, such as Youtube and Brightcove, as source. This can help you in setting up an easy, video-documentation-blog as an aside, a bonus to your own blog. The ViScript plugin will take care of everything needed: retrieve the videos from the sources you've defined and automatically add them to your vlog. All this at the update rate you set.
Easy Video Aggregation
What is this? "BlogBooker: From your Blog to a Book." BlogBooker produces a high-quality PDF Blog Book from all your blog's entries and comments. Archives can be generated from any blog running on WordPress, LiveJournal(and derivatives) or Blogger. The whole process takes about 3-4 minutes, depending on the size of your blog.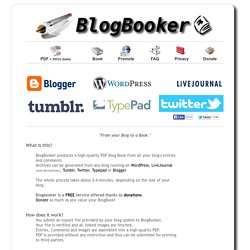 Uploading and embedding a video in your entry is a rather time consuming option and often leaves you with the problem that people can comment both on your blog and at the video sharing platform. There are thousands of different video sharing platforms out there and Youtube certainly is the most popular, most used even… but certainly also the worst main platform in a matter of video quality. Although we, at tubetorial, have chosen for Brightcove as our platform of choice, here at tubetorial it's all about you and how to make your life and blogging experience easier. In this tube we are not promoting our choice, but the easiest platform FOR YOU to upload, embed and hopefully even monetize your videos. And the Revver have made an awesome WordPress plugin to make vlogging easier for you.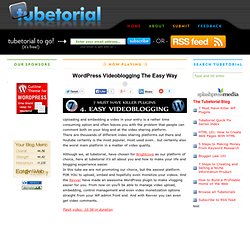 WordPress Videoblogging The Easy Way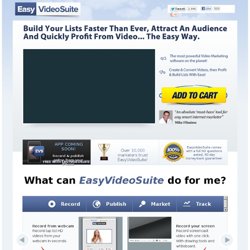 EasyVideoPlayer 2 has genuinely helped marketers and people who sell online increase their profits, save time and build their lists faster than ever. As you can see we have many raving testimonials from real people who love the product! But, we want to remove all risk to you . That is why we offer a 100% No Questions Asked 60 Day Money Back Guarantee.
EasyVideoPlayer