Iditarod
IdidaRide Sled Dog Tours, Inc.
Happy Trails Kennels
Team Redington
Crazy Dog Mushing Kennel and Alaskan Adventures
Musher: Zoya DeNure 2007 GinGin 200 - Women's Division PRIOR RACE EXPERIENCE: Nenana Ice Classic, Sheep Mountain 150, Chatanika 200 2nd place, Taiga 300- 3rd place. KENNEL NAME: Crazy Dog Kennels, Maclaren River & Paxson, Alaska BIO: Originally from Wisconsin, I packed up and headed north to Alaska in 2002 with one dog and many dreams. One of my many dreams was to live in the woods with mountains, nature, sled dogs and a life full of dog- everything. Today I live happily with my husband in the woods with dogs and mountains, making a living from dog tours, dog boarding, and my small gift shop kennel business.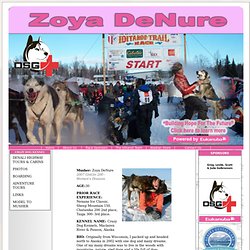 Nature's Kennel Sled Dog Racing & Adventures
Iditarod Musher Dee Dee Jonrowe
The SP Kennel Dog Log
John Baker, Iditarod Musher, Sled Dog Race, Kotzebue, Alaska, Dog Mushing
Laughing Eyes Kennel
Husky Homestead Jeff King Iditarod Champion - Alaska Dog Sled Tours
Lance Mackey Iditarod Champion
Official Iditarod Website pages