Iditarod
IdidaRide Sled Dog Tours, Inc.
Happy Trails Kennels
Ray Redington Jr. & Redington Kennels Dog mushing is a family tradition for Ray Redington Jr. He's a 3rd generation Iditarod musher.
Team Redington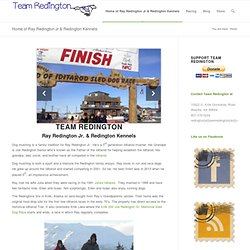 Crazy Dog Mushing Kennel and Alaskan Adventures
Musher: Zoya DeNure 2007 GinGin 200 - Women's Division PRIOR RACE EXPERIENCE: Nenana Ice Classic, Sheep Mountain 150, Chatanika 200 2nd place, Taiga 300- 3rd place. KENNEL NAME: Crazy Dog Kennels, Maclaren River & Paxson, Alaska BIO: Originally from Wisconsin, I packed up and headed north to Alaska in 2002 with one dog and many dreams. One of my many dreams was to live in the woods with mountains, nature, sled dogs and a life full of dog- everything. Today I live happily with my husband in the woods with dogs and mountains, making a living from dog tours, dog boarding, and my small gift shop kennel business.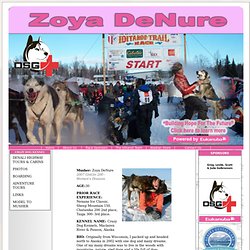 Nature's Kennel Sled Dog Racing & Adventures
Iditarod Musher Dee Dee Jonrowe
DeeDee Jonrowe is the foremost female dog musher competing in the world today. She has fifteen top ten finishes in her career. Her second place finish in 1998 was the fifth fastest Iditarod time ever recorded at that point. In addition to the Iditarod, DeeDee has competed and won most major dog sledding races throughout her career, including the Copper Basin 300, Klondike 300 and the John Bear grease sled dog marathon. DeeDee ran her first Iditarod in 1980 and soon undertook the building of her own sled, a comprehensive breeding and training program for her dogs, and a rigorous physical fitness program for herself.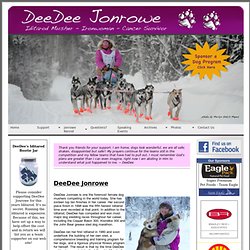 Running the Percy was such a great way to close the race season! The dogs and I had so much fun on 200 miles of Yukon River running. The weather was sunny and clear, so temps were warm during the day and chilly in the early morning hours. As with most of the races this season, the trail was hard and fast. We finished in a little over 20 hours.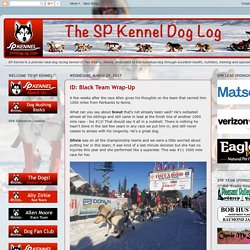 The SP Kennel Dog Log
John Baker, Iditarod Musher, Sled Dog Race, Kotzebue, Alaska, Dog Mushing
Laughing Eyes Kennel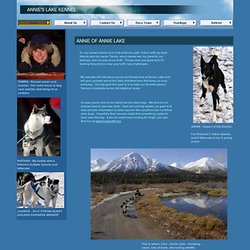 NATHAN - My buddy who's finished multiple Quests and Iditarods. Hi, my name's Annie and I live at Annie Lake, Yukon with my best friends and my owner Tamra, who's raised me, my parents, my siblings, and my kids since birth. Things here are great and I'm looking forward to a new year with new challenges. My website will introduce you to my friends here at Annie Lake and will give updates about the daily activities here that keep us busy everyday.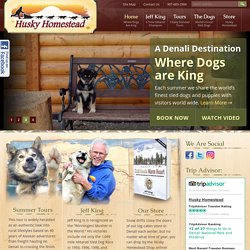 Husky Homestead Tours Bid! Win! Ride!!Who will it be this year?
Husky Homestead Jeff King Iditarod Champion - Alaska Dog Sled Tours
Lance Mackey Iditarod Champion
Official Iditarod Website pages