Branding
Under-Promise. Over-Deliver. And Your Brand's Fans Will Talk. In a small restaurant in Shinjiku, a suburb of Tokyo, I ordered sake.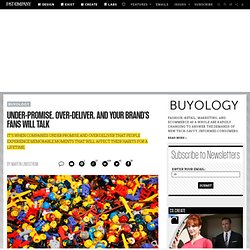 First, the waitress placed a small wooden box in front of me. Then she arrived with a large tray carrying 40 cups. Each one, she explained, represented a different personality. I chose a blue cup, which she removed from her tray and carefully placed in the box. As she began to pour the traditional drink into my small blue cup, things took a decidedly unusual turn. Trust Me: Here's Why Brands Sell Trust, Subconsciously. Let's say that not that long ago you came across a fascinating article.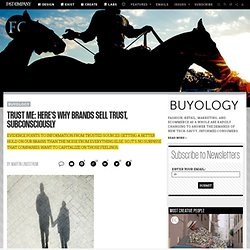 But when you later try to verify some of the facts, you just can't pinpoint exactly where you first read it. What you do recall is that the source was reliable and you trusted the message. This is a situation I find myself in quite regularly. Train Your Computer, Monitor Your Brand Online Using "Sentiment Analysis" The next guest in our futurist series, Crystal Ballin', is Seth Redmore, VP of Product Management at Lexalytics, a major player in the realm of text and sentiment analysis.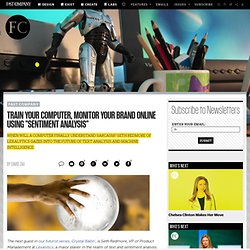 Want to keep track of what people are saying about your brand on the Internet? Lexalytics' engine, "Salience," can help you do that. But despite initial successes, we're only at the beginning of what text analysis might achieve in the future--as Redmore points out, a computer can easily confuse a harmless family anecdote with animal pornography. Creative Cultures: MailChimp Grants Employees "Permission To Be Creative" One day, MailChimp CEO Ben Chestnut discovered that his company had acquired a new tagline.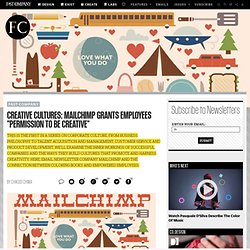 Chestnut hadn't approved, or even known about this rather significant new bit of corporate identity, but there it was--"Love What You Do"--on the footer of the company website. At most companies, changing a piece of punctuation in a line of ad copy takes three weeks of meetings between about 14 people across six departments. So typically this would be the kind of occasion that terms like "tearing a new one" and "terminated with extreme prejudice" were made for. But there would be no new orifices created that day.
Internal Branding. Personal Branding. Product Branding. Employer Branding. Corporate Branding.
---