Code
OpenELEC - The living room PC for everyone. Proxy List by Country. Proxy List by Country One of the most interesting proxy property is it's country of origin.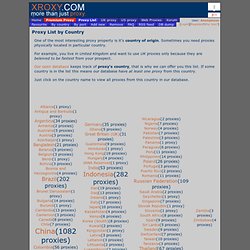 Sometimes you need proxies physically located in particular country. For example, you live in United Kingdom and want to use UK proxies only because they are beleived to be fastest from your prospect. The Toolbox: a directory of useful single-page sites and apps. Efektivita « brm - webdev a awesome. Po rokoch prevažnej spokojnosti som z Opery prešiel na Chrome.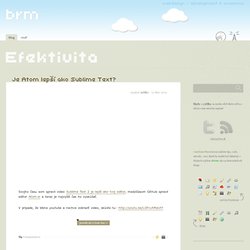 Prečo? Opera prináša novinky, je rýchla jak sviňa a pýši sa extrémnou customizovateľnosťou (take that, slovenčina!). Vďaka Nórskym junákom máme v prehliadačoch srandičky ako speed dial, mouse gestures, zoznam naposledy zatvorených stránok a taby (áno, tie taby). Sublime Text 2 « brm - webdev a awesome. Napísal yablko, 25 Jan 2012[ Sublime Text 2 je lepší ako tvoj editor.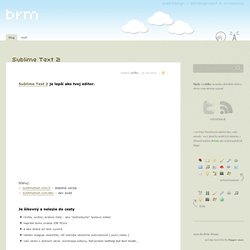 Sťahuj: :: sublimetext.com/2 - stabilná verzia :: sublimetext.com/dev - dev build Je šikovný a nelezie do cesty. Web Toolkit Downloads - Google Web Toolkit. ARQ - SPARQL Tutorial. Triple store Persist your data using TDB, a native high performance triple store.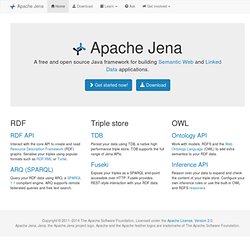 TDB supports the full range of Jena APIs. Fuseki Expose your triples as a SPARQL end-point accessible over HTTP. Fuseki provides REST-style interaction with your RDF data. SPARQL by Example. Introduction SPARQL by Example is a SPARQL tutorial created by W3C SPARQL Working Group co-chair Lee Feigenbaum and W3C team member Eric Prud'hommeaux.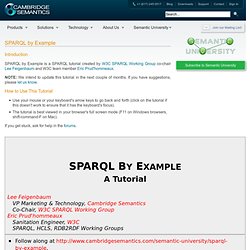 NOTE: We intend to update this tutorial in the next couple of months. If you have suggestions, please let us know. How to Use This Tutorial Use your mouse or your keyboard's arrow keys to go back and forth (click on the tutorial if this doesn't work to ensure that it has the keyboard's focus). Essential JavaScript Design Patterns For Beginners. Design patterns are reusable solutions to commonly occurring problems in software design.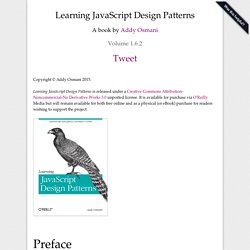 They are both exciting and a fascinating topic to explore in any programming language. One reason for this is that they help us build upon the combined experience of many developers that came before us and ensure we structure our code in an optimized way, meeting the needs of problems we're attempting to solve. Design patterns also provide us a common vocabulary to describe solutions. Robíme WordPress #2 – Úvod do tvorby tém « brm - webdev a awesome. Napísal yablko, 8 May 2012[ Dnes si vytvoríme prvú vlastnú tému, yay!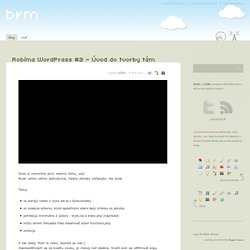 Bude veľmo veľmo jednoduchá, žiadne zázraky nečakajte. Ale bude.
---