Code
If you find OpenELEC useful, then we'd really appreciate it if you'd consider contributing to the project however you can. Donating is the easiest, and with options to use PayPal, Flattr or Bitcoin it's also pretty flexible. We haven't set up our donation pages to suggest a donation amount, instead we'd like you to just donate whatever you feel comfortable with - whether it's little or a lot we'll certainly appreciate it. Note: You do not need a PayPal account to make a PayPal donation. It's not the only way to help though...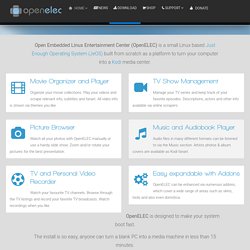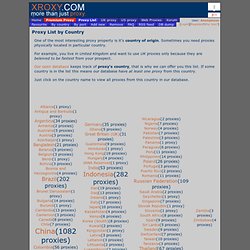 Proxy List by Country
Proxy List by Country One of the most interesting proxy property is it's country of origin. Sometimes you need proxies physically located in particular country. For example, you live in United Kingdom and want to use UK proxies only because they are beleived to be fastest from your prospect.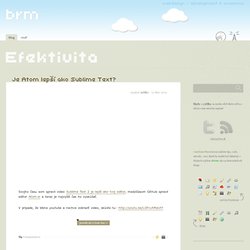 Po rokoch prevažnej spokojnosti som z Opery prešiel na Chrome. Prečo? Opera prináša novinky, je rýchla jak sviňa a pýši sa extrémnou customizovateľnosťou (take that, slovenčina!). Vďaka Nórskym junákom máme v prehliadačoch srandičky ako speed dial, mouse gestures, zoznam naposledy zatvorených stránok a taby (áno, tie taby).
Efektivita « brm - webdev a awesome
napísal yablko, 25 Jan 2012[ Sublime Text 2 je lepší ako tvoj editor. Sťahuj: :: sublimetext.com/2 - stabilná verzia :: sublimetext.com/dev - dev build Je šikovný a nelezie do cesty
Sublime Text 2 « brm - webdev a awesome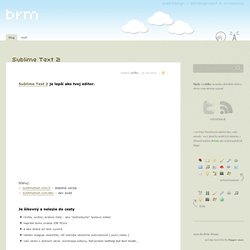 Triple store Persist your data using TDB, a native high performance triple store. TDB supports the full range of Jena APIs. Fuseki Expose your triples as a SPARQL end-point accessible over HTTP. Fuseki provides REST-style interaction with your RDF data.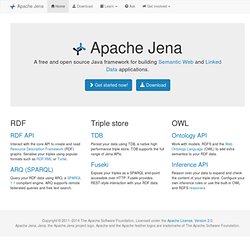 ARQ - SPARQL Tutorial
SPARQL by Example - Cambridge Semantics
Introduction SPARQL by Example is a SPARQL tutorial created by W3C SPARQL Working Group co-chair Lee Feigenbaum and W3C team member Eric Prud'hommeaux. NOTE: We intend to update this tutorial in the next couple of months. If you have suggestions, please let us know. How to Use This Tutorial Use your mouse or your keyboard's arrow keys to go back and forth (click on the tutorial if this doesn't work to ensure that it has the keyboard's focus).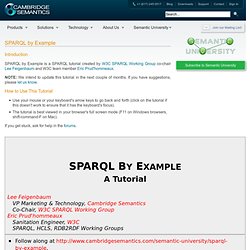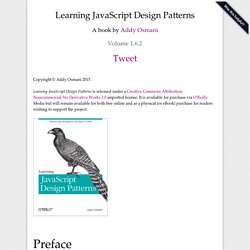 I would like to thank Rebecca Murphey for inspiring me to open-source this mini-book and release it for free download and distribution - making knowledge both open and easily available is something we should all strive for where possible. I would also like to extend my thanks to the very talented Alex Sexton who was kind enough to be the technical reviewer for this publication. I hope that it helps you learn more about design patterns and the usefulness of their application to JavaScript. Volume 2 of Essential JavaScript Design Patterns is currently being written and will be more detailed than this first edition.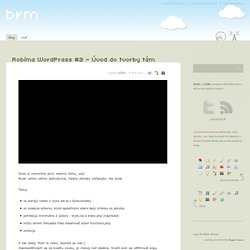 napísal yablko, 8 May 2012[ Dnes si vytvoríme prvú vlastnú tému, yay! Bude veľmo veľmo jednoduchá, žiadne zázraky nečakajte. Ale bude.
Robíme WordPress #2 – Úvod do tvorby tém « brm - webdev a awesome