F C BARCELONA
FC Barcelona Clan - Penya Officielle du FC Barcelone et Actu du Barça. Mes que un derby / Liga - Espanyol/FC Barcelone. L'Espanyol Barcelone est quatrième au classement.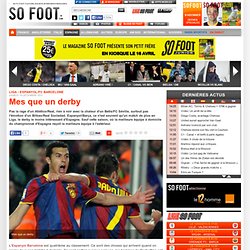 Ce sont des choses qui arrivent quand on gagne tous ses matchs à domicile. En sept sorties sur leur pelouse, les hommes de Pochettino ont gagné sept fois. Cornellà-El Prat, plus qu'un nom de planète à la Battlestar Galactica, le nouveau stade des pericos (les perruches, le surnom des joueurs de l'Espanyol), investi la saison dernière, est devenu une forteresse quasi imprenable du Royaume d'Espagne.
Ce que confirme Josep Guardiola : « C'est un des stades les plus difficiles d'Espagne.
BARÇA DANS LA PRESSE FRANCE
FC-Barcelone.com - Le meilleur site francophone sur le FC Barcelona. FCBarcelona.com. BARÇA DANS LA PRESSE CAT. FC Barcelona. Futbol Club Barcelona (Catalan pronunciation: [fubˈbɔɫ ˈkɫub bərsəˈɫonə] ( )), also known as Barcelona and familiarly as Barça,[1] is a professional football club, based in Barcelona, Catalonia, Spain.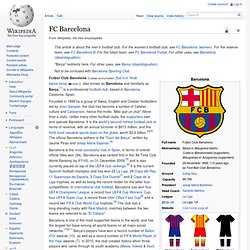 Founded in 1899 by a group of Swiss, English and Catalan footballers led by Joan Gamper, the club has become a symbol of Catalan culture and Catalanism, hence the motto "Més que un club" (More than a club). Unlike many other football clubs, the supporters own and operate Barcelona. It is the world's second-richest football club in terms of revenue, with an annual turnover of $613 million, and the third most valuable sports team on the globe, worth $2.6 billion.[2][3] The official Barcelona anthem is the "Cant del Barça", written by Jaume Picas and Josep Maria Espinàs.[4] Barcelona is the most successful club in Spain, in terms of overall official titles won (84). Barça. Zona Fan dels Autèntics Culers.
---