Movies
8 Movie Special Effects You Won't Believe Aren't CGI
We mean no disrespect to the digital effects artists working in Hollywood, but sometimes it feels like computer-generated (CG) effects haven't improved in 10 years. Every blockbuster seems to have at least one big effects scene that looks like it was lifted from a PS3. So maybe we need to stop and appreciate the mind-blowing scenes that were done the old-fashioned way -- with stunts, models and borderline insanity.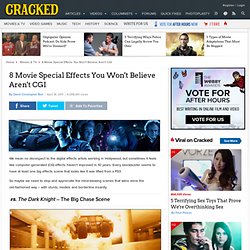 Empire Features
10 Cool Full Length Amateur Movies on YouTube
The movies will make you laugh, will make you think, and some will simply leave you in awe.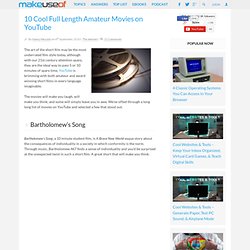 40 best directors | Features | guardian.co.uk Film
Odd Movie Suggestions
Greg Rutter's Definitive List of The 99 Things You Should Have Already Experienced On The Internet Unless You're a Loser or Old or Something