Fingerless
These cute fingerless gloves are inspired by traditional Selbu mittens. The construction differs from the historical mittens and uses a thumb gusset on the side of the hand instead of a gusset on the palm, but the motifs are all taken from traditional patterns.
Wintergreen Gloves « The Daily Skein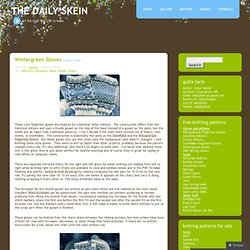 SN0111 Lettuce Knit Arm Warmers
my first published pattern... usually my patterns don't escape, so it's fun to have it out there... feel free to use the comment box if any questions. in case you prefer to download a pdf - here you go - google docs has some hickups ... but it works... just keep trying... - the pdf also comes a bit more detailed and with more pictures...
Keep warm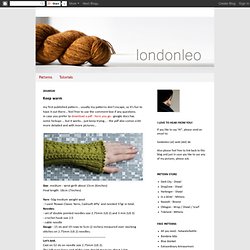 mordues de mitaines kal ~ smariek knits
Pattern: St. Albans Valentine Cable Mitts (scroll down for download)Yarn: Elann Baby Cashmere, mulled grapeNeedles: 2.75 mm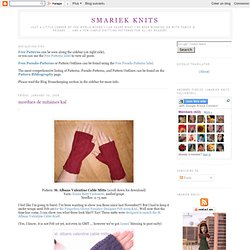 The Yarnpath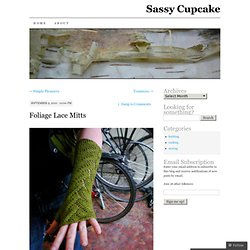 As you may have seen in my last post, I have been working on a lace shawl.
Issue 56 – Nederland Mitts
The Story: When I designed the Nederland Vest I always intended it to have matching armbands inspired by mangas, the decorative arm warmers which were once an important element of Andean men's costume.
bo-peep1.pdf (application/pdf Object)
Ravel it here! You will need: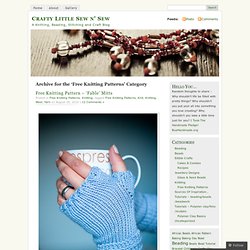 Free Knitting Patterns « Crafty Little Sew n' Sew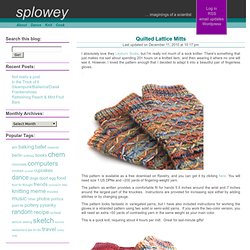 I absolutely love they Leyburn Socks, but I'm really not much of a sock knitter.
Quilted Lattice Mitts
Ranting and Knitting - It got rejected by Knitty, but I like it anyway.
I wrote up this pattern in, oh, I don't know, May?