Fingerless
Wintergreen Gloves « The Daily Skein. These cute fingerless gloves are inspired by traditional Selbu mittens.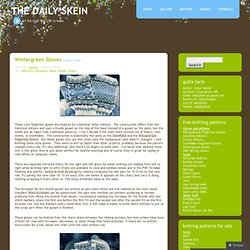 The construction differs from the historical mittens and uses a thumb gusset on the side of the hand instead of a gusset on the palm, but the motifs are all taken from traditional patterns. I can't decide if the main motif reminds me of hearts, mint leaves, or snowflakes. The construction is essentially the same as the Snowflake and the Albuquerque Fingerless Gloves. But these gloves only use five colors (and the background color doesn't change)! I love knitting these style gloves. SN0111 Lettuce Knit Arm Warmers. Keep warm. My first published pattern... usually my patterns don't escape, so it's fun to have it out there... feel free to use the comment box if any questions. in case you prefer to download a pdf - here you go - google docs has some hickups ... but it works... just keep trying... - the pdf also comes a bit more detailed and with more pictures...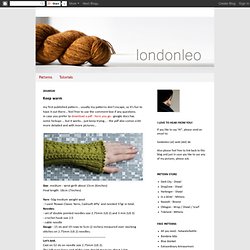 Size: medium - wrist girth about 15cm (6inches) Final length: 18cm (7inches) Yarn -50g medium weight wool - I used 'Rowan Classic Yarns, Cashsoft 4Ply' and needed 37gr in total.Needles - set of double pointed needles size 2.75mm (US 2) and 3 mm (US 3) - crochet hook size 2.5 - cable needleGauge - 15 sts and 19 rows to 5cm (2 inches) measured over stocking stitches on 2.75mm (US 2) needles. ____________________________________Let's knit. Mordues de mitaines kal ~ smariek knits. Pattern: St.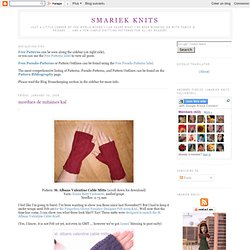 Albans Valentine Cable Mitts (scroll down for download)Yarn: Elann Baby Cashmere, mulled grapeNeedles: 2.75 mm I feel like I'm going to burst. I've been wanting to show you these since last November!!! But I had to keep it under wraps until Feb 1st for the Fingerless Gloves Fanatics Designer Feb 2009 KAL. Well now that the time has come, I can show you what these look like!!! The Yarnpath. Foliage Lace Mitts | Sassy Cupcake. As you may have seen in my last post, I have been working on a lace shawl.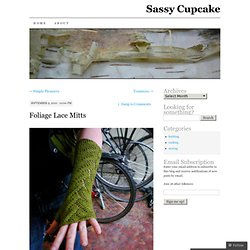 I began knitting it last summer but was a bit too frustrated with the pace of knitting lace (slow) as well as the amount of concentration required for such an endeavor (lots). I put it away with the best intentions of coming back to it at some point. That point happened to be a full year later on the eve before I embarked to California. I hadn't been knitting anything, and decided that I needed a project to work on while waiting in airports, train stations, or needed some downtime. Issue 56 – Nederland Mitts. The Story: When I designed the Nederland Vest I always intended it to have matching armbands inspired by mangas, the decorative arm warmers which were once an important element of Andean men's costume.
Mixing it up, as I'm wont to do, I chose a traditional Fair Isle pattern and I added a ribbed cuff with a thumb opening, so the bands can be worn either as mitts, or like sleeves when the cuff is folded up. Arm warmers are a surprisingly useful garment in today's world of fluctuating temperatures—imagine freezing outside in your fashionable coat with the ¾ length sleeves, only to be sweltering in the office when you go inside. Wear the Nederland vest with a Tee and if it gets chilly, pull on the arm bands. If you venture outside, fold down the cuff, slip your thumb in the thumbhole and you're good to go, safe from the elements! Bo-peep1.pdf (application/pdf Object) Free Knitting Patterns « Crafty Little Sew n' Sew. Ravel it here!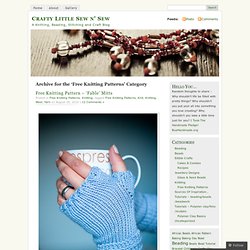 You will need: 50 grams d.k yarn 4 mm straight needles 2 small stitch holders darning needle 2 decorative buttons stitch markers Size – small (medium) Tension/Gauge – 4" x 4" 24 sts & 28 rows in stocking stitch Abbreviationsk – knit p – purl st – stitches rs – right side of work ws – wrong side of work sl1, k1, psso – slip the next stitch knitwise to right needle, knit following stitch, pass slipped stitch over the previously knitted stitch k2tog – knit the next two stitches together st st – stocking stitch, knit on right side, purl on wrong side m1 inc – make 1 increase, with right needle pick up thread between stitches & place on left needle then knit into back loop pm – place marker. Quilted Lattice Mitts. I absolutely love they Leyburn Socks, but I'm really not much of a sock knitter.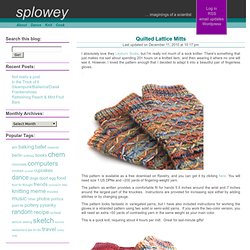 There's something that just makes me sad about spending 20+ hours on a knitted item, and then wearing it where no one will see it. However, I loved the pattern enough that I decided to adapt it into a beautiful pair of fingerless gloves. This pattern is available as a free download on Ravelry, and you can get it by clicking here. Daisy Stitch Hand Warmers.
Ranting and Knitting - It got rejected by Knitty, but I like it anyway. I wrote up this pattern in, oh, I don't know, May?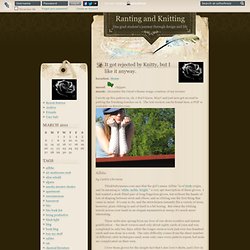 And just now got around to putting the finishing touches on it. The text version can be found here, a PDF is available on Ravelry.com. Ailbhe by Caitlin Christine.
---