The Spark AMERICA
The One Percent: Who Are They? What Do They Do? How Much Do They Have? | PlanetPOV
The rich are getting even richer as most other Americans fall behind. Households in the wealthiest one percent were 288 times richer than the median American household in 2010, possessing an average net worth of $16.4 million. In contrast, the median American household had a net worth of $57,000 in 2010. That's according to "The State of Working America," a report released Tuesday by the Economic Policy Institute. The wealthiest one percent now own 35 percent of all wealth in the U.S, and income inequality is growing as wages have not kept up with workers' increased output. EPI, a left-leaning think tank, blames economic policies such as the deregulation of the financial industry, lower tax rates and weakened protections for collective bargaining.
The One Percent Is 288 Times Wealthier Than The Median U.S. Household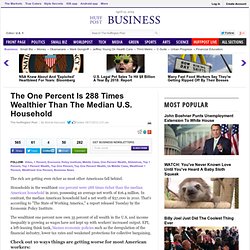 Unemployment Rates for States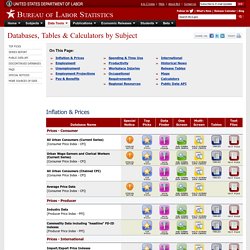 About the Tools Allows users to quickly retrieve BLS time series data from lists of those most commonly requested. This application requires a Java-enabled browser. Choose the data you want from BLS databases on a simple, one-screen form. A form-based query application which allows you to obtain BLS time series data based on choices you make. A link to the BLS Download server.
Databases, Tables & Calculators by Subject
Obama's Real Unemployment Rate Is 14.7%, And A Recession's On The Way
Illegal Immigration in Arizona: Life and Death Along the US Border
Why did FOX Banned this video?
Hidden Cameras on the Arizona Border 2: Drugs, Guns and 850 Illegal Aliens
Hidden Cameras on the Arizona Border 3: A Day in the Life of a Drug Smuggler
Hezbollah Terrorists Working with Mexican Drug Cartels
Iran-Russia Quit US Dollar For Trade
India abandons US dollar to purchase Iranian oil
Operation Northwoods Exposed (MUST-SEE VIDEO!!)
THE OTHER ISRAEL [full documentary]
How the Jews Treat Christians in Israel - It's Serious!
How the Jews Treat Christians in Israel?
The ELITE blew it , REVEALED their plans to start WORLD WAR 3 - MIRROR
INVISIBLE soldier caught on video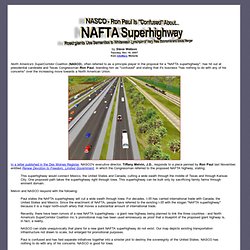 by Steve Watson Tuesday, Dec 18, 2007 from InfoWars Website North America's SuperCorridor Coalition (NASCO), often referred to as a principle player in the proposal for a "NAFTA superhighway", has hit out at presidential candidate and Texas Congressman Ron Paul, branding him as "confused" and stating that it's business "has nothing to do with any of his concerns" over the increasing move towards a North American Union. In a letter published in the Des Moines Register, NASCO's executive director, Tiffany Melvin, J.D., responds to a piece penned by Ron Paul last November, entitled Renew Devotion to Freedom, Limited Government, in which the Congressman referred to the proposed NAFTA highway, stating:
NASCO - Ron Paul Is "Confused" About NAFTA Superhighway - Road giants Use Semantics to Whitewash Lynchpin of Very Real Economic and Social Merger
>------- La Voz de Aztlan -----
Narco Red
‪Patriotic Ohio Militia Response to The Loyalist Media Demonizing The American Militia Movement‬‏
‪Gangland season 5 episode 56 The Death Head Hells Angels part2 http://1-inmate-locator.blogspot.com/‬‏
‪Gangland - Mara Salvatrucha (Part 1/4) - HD‬‏
‪Gangland season 1 episode 5 Race Wars part5 http://1-inmate-locator.blogspot.com/‬‏
‪Gangland - Los Zetas (Part 4/4)‬‏
‪Gangland - Mexican Mafia 1‬‏
Inside Seized Drug-Smuggling Submarines - Photo Essays