Art Things
Artist Trust. Money - Artist Trust. Artist Trust partners with Photo Center Northwest (PCNW) to provide residencies for artists.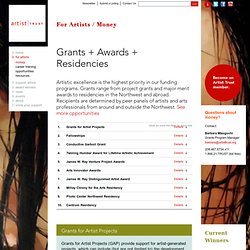 PCNW provides resources that include gallery spaces, darkrooms, studios, a digital lab and library. Residency recipients are chosen from Grants for Artist Projects (GAP) recipients and receive access to facilities, equipment, studios, classes/workshops, access to lectures, opportunities to exhibit, complimentary PCNW membership and more. Type of Award Residency. Opportunities - Artist Trust. Comics. Tutorials. Jason Rohrer.
Currently parenting and making video games in Davis, California.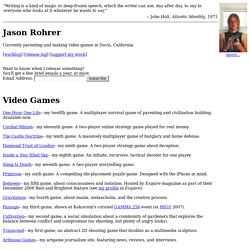 [worklog] [release log] [support my work] Want to know when I release something? You'll get a few brief emails a year, at most. The Castle Doctrine-- my tenth game. Book II : FELICITY BYRNE PHOTOGRAPHY. The Game Design of Art. "Anything can be art.
Even a can of Campbell's soup. " So admitted Roger Ebert , world-famous movie reviewer and notorious videogame detractor, back in July of 2007. However, continued Ebert, videogames will never be "high art. " Ebert has held fast to his "games cannot be art" position for two and a half years, braving an e-firestorm of responses from passionate game fans. The gaming community has folded this fight into itself - we haven't just argued with Ebert, we've also debated endlessly with each other. Artforum.com / home. Odosketch. Home Page. Magazine. "To hell with the new.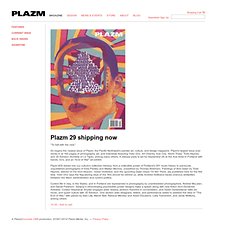 " So begins the newest issue of Plazm, the Pacific Northwest's premier art, culture, and design magazine. Plazm's largest issue ever clocks in at 160 pages of photography, art, and interviews featuring Yoko Ono, Art Chantry, Sue Coe, Storm Tharp, Todd Haynes, and JD Samson (formerly of Le Tigre), among many others. A release party is set for September 26 at the Ace Hotel in Portland with bands, DJ's, and an "End of War" art exhibit. Plazm #29 delves into our culture's collective memory, from a collectible poster of Portland's DIY music history to previously unpublished photographs of Elvis Presley and Marilyn Monroe, unearthed by Thomas Robinson. Paintings of Bob Dylan by Todd Haynes, director of Far from Heaven, Velvet Goldmine, and the upcoming Dylan biopic I'm Not There, are published here for the first time.
---