Library
The Future of Libraries: Short on Books, Long on Tech | Mobiledia. This isn't your childhood library.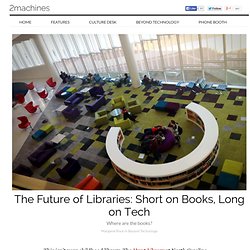 The Hunt Library at North Carolina State University is beautiful. The main floor looks more like a sleek Apple showroom than a stuffy library. And instead of a Genius Bar, there's an Ask Me alcove, where you can get help on everything from laptops to flash drives. The Mysterious Fate of the Library of Alexandria. Jamie K. asks: What ever happened to the ancient library in Alexandria?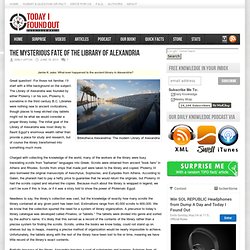 Bibliotheca Alexandrina: The modern Library of Alexandria Great question! For those not familiar, I'll start with a little background on the subject. The Librarian's Love/Hate/Love Relationship with Books. The story that is buzzing around libraryland this week is the book weeding controversy at the Urbana Free Library in Urbana, Illinois.
The gist of the story is over a weeding policy of Ebola-like aggressiveness that was implemented removing books (mainly non-fiction) that were older than ten years regardless of collection value, usage, wear and tear, and other normal considerations. Freedom of Information Act requests to the library have uncovered narratives that have gems like "our mission is no longer learning" (thanks to Liz Burns for pointing that one out) between declarations of hurt feelings and toes being trod upon. Last night, there was a contentious meeting during which more dirty laundry was produced as the library's board, the staff, and the public made their discontent known. In reading over the reports, my gut reaction is somewhere between poor planning, no staff buy-in, and poor implementation. What is Entrepreneurial Librarianship? There's no committee that says, 'This is the type of person who can change the world – and you can't.'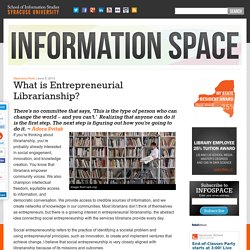 Realizing that anyone can do it is the first step. The next step is figuring out how you're going to do it. ~ Adora Svitak Image from opb.orgIf you're thinking about librarianship, you're probably already interested in social engagement, innovation, and knowledge creation. You know that librarians empower community voices. In the Digital Age, What Becomes of the Library? Flickr: Mr.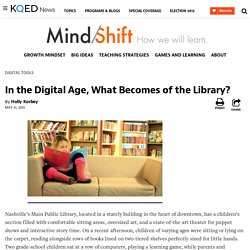 Moss Nashville's Main Public Library, located in a stately building in the heart of downtown, has a children's section filled with comfortable sitting areas, oversized art, and a state-of-the-art theater for puppet shows and interactive story time. On a recent afternoon, children of varying ages were sitting or lying on the carpet, reading alongside rows of books lined on two-tiered shelves perfectly sized for little hands. Two grade-school children sat at a row of computers, playing a learning game, while parents and caregivers checked out books via computer. So You Think You Want to Be a Librarian? Most people's knowledge of librarianship is a mash-up of Katharine Hepburn and Spencer Tracy in Desk Set, some warm and fuzzy memories from an elementary school class visit, Rupert Giles from Buffy the Vampire Slayer, even fuzzier memories of all-nighters in their college libraries, and maybe a high-minded article or two about the Digital Public Library of America.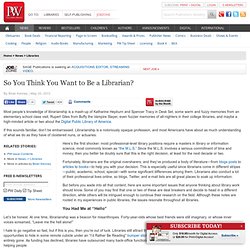 If this sounds familiar, don't be embarrassed. Librarianship is a notoriously opaque profession, and most Americans have about as much understanding of what we do as they have of cloistered nuns, or actuaries. Here's the first shocker: most professional-level library positions require a masters in library or information science, most commonly known as "the M.L.S."
Since the M.L.S. involves a serious commitment of time and money, then you better be doubly sure that this is the right decision, at least for the next decade or two.
---