Psihologija...o životu itd...
How to Overcome Failure: 12 steps (with pictures) Edit Article Edited by Carmyelle_as91, Flickety, Will, Richard and 31 others Failure is a given in life; expecting to sail through without a hiccup is unrealistic and sets you up to fall harder when failure does happen.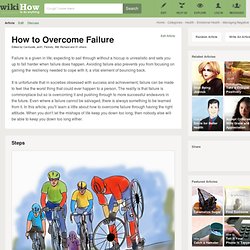 RELAJACIÓN MÚSICA, RELAX MUSIC, MÚSICA MEDITACIÓN, MEDITATION MUSIC, REIKI MUSIC YOGA, TAI CHI. Relaxation music. Zen Garden ♫✿ The best african chillout - Mama Africa (mixed by SpringLady) The Most Relaxing Music Ever! Slow down - by Paul Collier (11) Beautiful Chinese Music - Bamboo Flute. Wonderful Chill Out Music Africa Asia Oriental Theme Tekiu blogspot com. Arabic Music "The Desert Lounge I°" The most beautiful spanish chillout - Spanish Nights (mixed by SpringLady) RainyMood.com: Rain makes everything better. Traženje istine. Val - Znanje - Portal za razvoj svijesti - zdravlje duhovnost energija svjetlost znanost liječenje bolesti prirodna medicina denziteti kasiopejci 2012.
50 Things Everyone Should Know How To Do | This and That... MarcandAngel - Self-reliance is a vital key to living a healthy, productive life.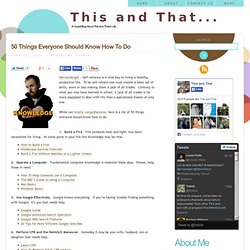 To be self-reliant one must master a basic set of skills, more or less making them a jack of all trades. Contrary to what you may have learned in school, a jack of all trades is far more equipped to deal with life than a specialized master of only one. 1. Build a Fire – Fire produces heat and light, two basic necessities for living. Arm Pressure Points. High Existence. 50 Life Secrets and Tips. Marc and Angel Hack Life - Practical Tips for Productive Living. Inoveryourhead.net - Best of. April 25th, 2011 Ok, I have a confession to make.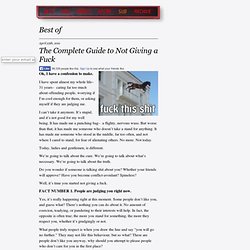 I have spent almost my whole life– 31 years– caring far too much about offending people, worrying if I'm cool enough for them, or asking myself if they are judging me. I can't take it anymore. 100 Tips About Life, People, and Happiness. 1.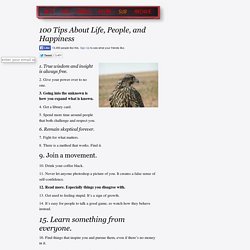 True wisdom and insight is always free. 2. Give your power over to no one. Calm.com. 60 Small Ways to Improve Your Life in the Next 100 Days. Contrary to popular belief, you don't have to make drastic changes in order to notice an improvement in the quality of your life.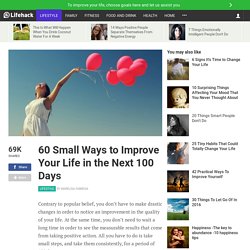 At the same time, you don't need to wait a long time in order to see the measurable results that come from taking positive action. All you have to do is take small steps, and take them consistently, for a period of 100 days. Below you'll find 60 small ways to improve all areas of your life in the next 100 days.
Home.
---