Philantropie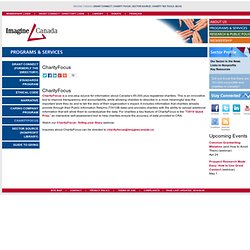 CharityFocus | Imagine Canada
CharityFocus is a one-stop source for information about Canada's 85,000 plus registered charities. This is an innovative tool to improve transparency and accountability, while allowing charities to describe in a more meaningful way the important work they do and to tell the story of their organization's impact. It includes information that charities already provide through their Public Information Returns (T3010B data) and provides charities with the ability to upload additional information that will allow them to contextualize the data.
Charitable Deduction Faces a Fresh Challenge as Lawmakers Attempt to Close Deficit - Tax Watch
By Suzanne Perry Republicans on the Congressional deficit-reduction "super committee" are reportedly proposing to limit tax deductions for charitable gifts and other expenses, an idea that draws from a plan by three experts at the National Bureau of Economic Research. Democrats have rejected the Republican offer, so it may not gain any steam.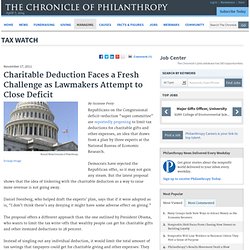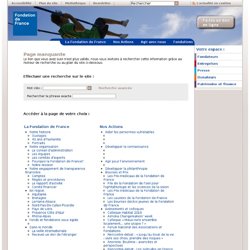 La Fondation Brageac Solidarité, une famille unie autour de la philanthropie / La vie des fondations / Espace Fondateurs / Votre espace
Dans les années 1850, le rétameur Antoine Lescure quitta Brageac, le village du Cantal où il menait une maigre vie.
Accueil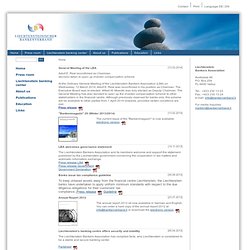 On 4th October 2012, the International Capital Market Association (ICMA) launched a Private Wealth Management Charter of Quality.
Liechtensteinischer Bankenverband - Liechtenstein Bankers Association
PUK_SPR_0211_FINAL.pdf (Objet application/pdf)
Fondations Abritées solidaires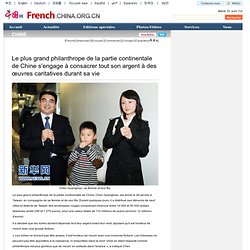 Le plus grand philanthrope de la partie continentale de Chine s'engage à consacrer tout son argent à des œuvres caritatives durant sa vie
Chen Guangbiao, sa femme et leur fils.
La philanthropie dans les États providence européens : une promesse ambitieuse ?
tp://philanthropy.com/blogs/prospecting/online-donations-grew-fast%E2%80%94especially-at-years-end/28352?utm_source=twitterfeed&utm_medium=twitter
Décidément, les idées fusent dans les musées pour trouver des financements.
Dons sur Facebook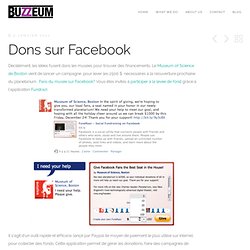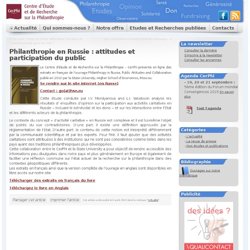 Le Centre d'Etude et de Recherche sur la Philanthropie – CerPhi présente en ligne des extraits en français de l'ouvrage Philanthropy in Russia, Public Attitudes and Collaboration publié en 2010 par la State University, Higher School of Economics, Moscou. Se rendre sur le site internet (en Russe)
Philanthropie en Russie : attitudes et participation du public
Métro Montréal - La philanthropie à l'université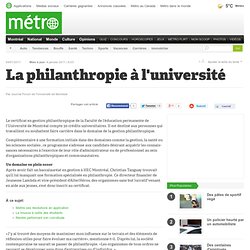 Le certificat en gestion philanthropique de la Faculté de l'éducation permanente de l'Université de Montréal compte 30 crédits universitaires. Il est destiné aux personnes qui travaillent ou souhaitent faire carrière dans le domaine de la gestion philanthropique.
An interview I have done for The Times makes it to the front page.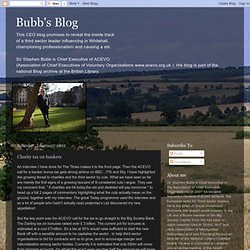 Charity tax on bankers
Les nouveaux ressorts de la philanthropie française - POLITIQUE SOCIALE
choosing a database (idealware)
Independent Sector
Grantmaking & Philanthropy | GrantCraft
Council on Foundations