Laine
Knit articles sorted by date - at TREND HUNTER
Filature des Landes - Catusse - Accueil
Répertorié dans: Artisan du patrimoine Toutes ces étapes se font dans nos locaux *La récolte de laine: Se situant dans le massif central (forte concentration ovine), nous n'avons pas de mal à nous procurer de la laine. La tonte se fait du mois de mars jusqu'au mois de juin. Nous sélectionnons les meilleurs lots pour notre fabrication.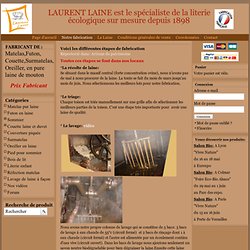 Voici les différentes étapes de fabrication - Fabricant Matelas
spinn
Tricot géant - Carton et chiffons
lundi 15 février 2010 Tricot géant Lors du Salon des brodeuses, tricoteuses et patcheuses en tout genre(eh oui, j'y suis tout de même allée...), je me suis entraînée au tricotgéant avec des aiguilles n° 24. Vous pouvez me voir en plein travail : Les aiguilles sont très encombrantes et ne glissent pas : dur, dur !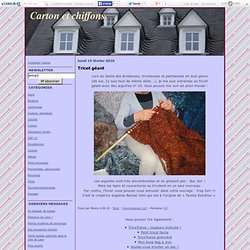 Tricotez géant avec Rachel John
RUTH MARSHALL Lives and works in the Bronx, New York Born Australia | 1964 Ruth Marshall's recreations of animal furs, snakeskins, and cast animal horns cause us to reexamine our relationship with animals. As a sculptor at the bronx zoo, her practice has evolved around creating faux natural and organic environments. Can these synthesized animal artifacts take on the same values as a real animal skin and bone? Perhaps they're something more, the thought that goes into creating an organic pattern and shape in a medium with it's own formal implications, such as knitting, is certainly worth a closer look. Her dedication to both the craft and the animals from which her pieces are drawn is shown in her series of coral snakes, of which she has knit all 68 species love of artifacts and relics has led her across the globe, through europe, northern africa, and asia.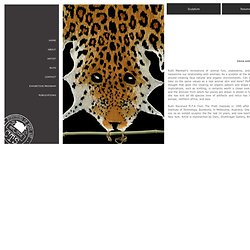 {CTS} creative thriftshop_artist Ruth Marshall