Animations
Live Earth - Short Film - Don´t Let It All Unravel. Animate Projects - Sarah Cox. Sarah Cox studied Animation at the Royal College of Art graduating in 1992.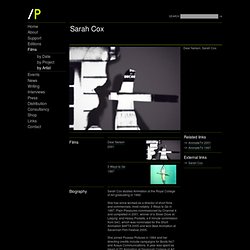 She has since worked as a director of short films and commercials, most notably: 3 Ways to Go in 1997; Plain Pleasures commissioned by Channel 4 and completed in 2001, winner of a Silver Dove at Leipzig; and Heavy Pockets, a 6 minute commission from S4C, which was nominated for the Short Animation BAFTA 2005 and won Best Animation at Savannah Film Festival 2005. She joined Picasso Pictures in 1994 and her directing credits include campaigns for Boots No7 and Avaya Communications.
A year was spent as Head of 2D Animation at Savannah College of Art and Design, Georgia (1999–2000). Further teaching followed at The National School of Film and TV (2001-2003). NZ Book Council - Going West. Elephant sur un trampoline - une vidéo Animaux. Les peaux de lièvres.
---