Hack
This article was originally published in Cuaderno Medialab The future home of Medialab-Prado, Serrería Belga (Belgian Saw Mill), has its facades decorated with beautiful typography. Taking on the challenge set by Medialab-Prado to liberate these letters from their stone prison and release them to the world, we hosted a three day workshop in Madrid. The premise was to collaboratively design a font, using a fully libre workflow and with no pre-requisites for participation — everyone was invited to join in. We were thrilled to receive this invitation from Medialab-Prado to come to Madrid and work together in a font revival inspired by a building with a rich historical background. The reception to the call was impressive and two days later we closed it having enlisted a total of thirty participants from different backgrounds and coming from different cities in Spain.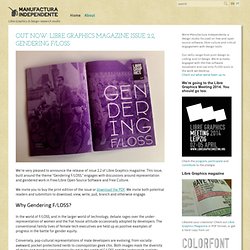 Manufactura Independente | Libre Graphics & Design research studio
Celso Martinho | Yet another relief valve
The Raspberry Pi has been used all over the world as an excellent emulator box to resuscitate old arcade machines, but with moderate success. You see, if you're a truly arcade aficionado like me, then you'll aim for perfection. And perfection means you'll use the jamma connector and the old 15Khz CRT instead of a more modern retro fitted VGA monitor like most people opt to do. Old arcade CRT sets can only accept 15Khz horizontal frequencies using separate RGB signals and a sync line (well, not quite, there are 25 Khz monitors too but they're uncommon).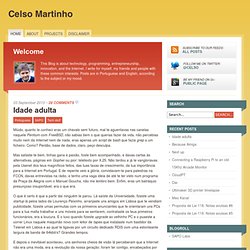 Citizen DAN
Open Source Windows is a simple list of the best free and open source software for Windows. We aren't trying to be a comprehensive listing of every open-source Windows application, instead we want to showcase the best, most important, and easiest to use. This page should be a handy reference and a useful tool for getting more people to start using free and open-source software. If you think we're missing any great apps, please let us know: info@bestfreesoftwarelist.com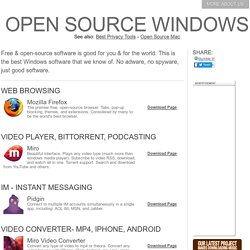 FreeWR - Freeware Downloads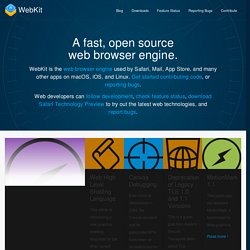 Welcome to the website for the WebKit Open Source Project! WebKit is an open source web browser engine. WebKit is also the name of the Mac OS X system framework version of the engine that's used by Safari, Dashboard, Mail, and many other OS X applications. WebKit's HTML and JavaScript code began as a branch of the KHTML and KJS libraries from KDE. Getting involved There are many ways to get involved.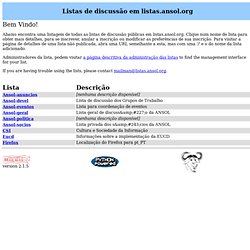 Listas de discussão em listas.ansol.org
Bem Vindo! Abaixo encontra uma listagem de todas as listas de discussão públicas em listas.ansol.org. Clique num nome de lista para obter mais detalhes, para se inscrever, anular a inscrição ou modificar as preferências de sua inscrição.
hacklaviva!
Publicado: 6 de Abril de 2012 | Por: admin | Em: Novas | 1 Comentário Gostávamos de ter preparado uma citação erudita ou coisa do género para a ocasião, mas o momento não será tão dramático que o exija. Assim, lançamos para o éter a última das notícias do Hacklaviva: chega o momento de pôr um ponto e vírgula neste projecto (os pontos finais são uma coisa drástica). A verdade é que já tivemos melhores dias. Nos últimos meses já só conseguíamos assegurar a manutenção essencial do projecto; e chegámos a um momento onde nos perguntámos se valia a pena continuar com o pé na porta à espera de um momento de viragem que não sabíamos se iria chegar.