Web
Be-Bound. Mobility is one of the words that describe best this new century.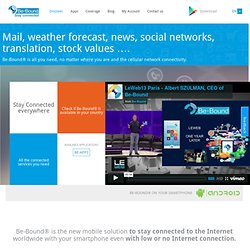 Actually, more than a, word mobility is for many of us, a way of life. Staying connected with others (home, work, friends) makes even more sense when we consider that the number of daily national and international travels is growing constantly. Staying connected has also become a major stake for most rising countries that have seen the major benefits they can get from this new nomadic way of communicating. In the rising economies most inhabitants do not have access to the internet despite the fact they own phones (in 2012, the number of worldwide mobile subscribers was over 6 billion !). Download Free Books Online | PDF SB.
Instituto de Meteorologia, IP Portugal.
---