Creatures
Button Man. Button , button, who's got the button?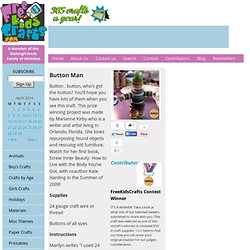 You'll hope you have lots of them when you see this craft. This prize winning project was made by Marianne Kirby who is a writer and artist living in Orlando, Florida. She loves repurposing found objects and rescuing old furniture. Farm Animal Magnet Project. Using your protractor or glass/cup, draw circles onto the cereal box cardboard and then cut them out.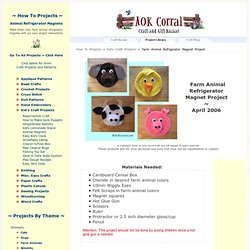 (The circles should be 2.5 inches in diameter.)Take three pieces of chenille stems in the color you want for your animal.Connect all three pieces together into one long piece by winding about 1 inch of the ends around each other.Beginning at one end of the long chenille piece, bend the chenille into a circle around a finger and then tighten that circle so there is no hole in the center. Continue winding the chenille around that circle into a spiral about four times.Put some hot glue onto the center of a cardboard circle about the size of the spiral of chenille you have started and place the spiral into place on the glue.Continue winding the chenille around in a spiral about 1 inch at a time, each time adding a line of hot glue to the cardboard just before winding the chenille. Muzzle for Cow or Dog: TP Roll Cow. Kids will love to make this toliet paper roll cow.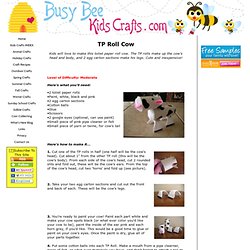 The TP rolls make up the cow's head and body, and 2 egg carton sections make his legs. Cute and inexpensive! Level of Difficulty: Moderate. Ibex (Wild Goat) Toilet Paper Roll Craft. Contributed by Leanne Guenther An ibex is basically a wild goat who lives in the mountains.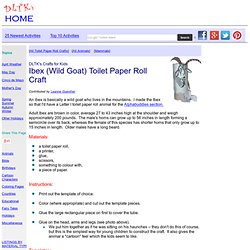 I made the Ibex so that I'd have a Letter I toilet paper roll animal for the Alphabuddies section. Adult Ibex are brown in color, average 27 to 43 inches high at the shoulder and weigh approximately 200 pounds. The male's horns can grow up to 56 inches in length forming a semicircle over its back, whereas the female of this species has shorter horns that only grow up to 15 inches in length. DLTK's Hippopotamus Craft. Contributed by Leanne Guenther This is a cute three dimensional hippo craft suitable for a jungle theme, mammals or animals theme, Africa theme or letter H theme.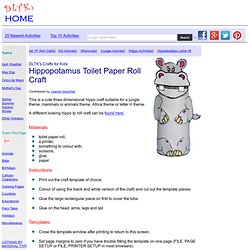 A different looking hippo tp roll craft can be found here. Bendable Magnetic Animals Craft. Cardboard Tube Bunny. Mr.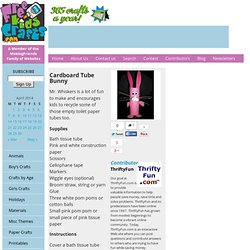 Whiskers is a lot of fun to make and encourages kids to recycle some of those empty toilet paper tubes too. Supplies Bath tissue tube Pink and white construction paper ScissorsCellophane tape MarkersWiggle eyes (optional) Broom straw, string or yarn GlueThree white pom poms or cotton balls Small pink pom pom or small piece of pink tissue paper Instructions. Hairy Situation | Headgear & Hair Ornaments. Christmas Ornaments: Mice Ornaments | All Animal Crafts. Craft: Lion and Lamb Note Holders | All Animal Crafts. Chews a Card | All Animal Crafts. Craft Stick Kitty Magnet. Craft Stick Kitty Refrigerator Magnet From Mary Ayres book Craft Stick Fun for Kids, Book 2.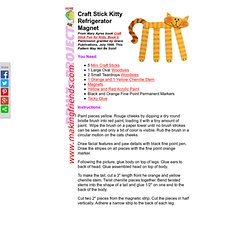 Permission granted by Grace Publications, July 1999. This Pattern May Not Be Sold! You Need: Instructions: Paint pieces yellow. Wall-E Robot Made From Recycled Materials. School Crafts: Pencil Buddies | Homemade Doll Crafts. Pipe Cleaner Crafts: Peppy People | Homemade Doll Crafts. Pipe Cleaner Craft: Button Beings | Bug Crafts.
---