Crafts, DIY, déco
Les meilleurs blogs déco DIY.
Boutiques. Washi tape. Mercredis. Vintage. Flaneries. Galerie. 2012 Art Ed Blog of the Year – Results! Two weeks ago we announced the 2nd Annual Art Ed Blog of the Year Contest!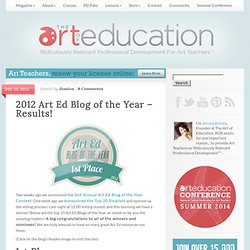 One week ago we Announced the Top 20 Finalists and opened up the voting process! Last night at 12:00 voting ceased, and this morning we have a winner! Below are the top 10 Art Ed Blogs of the Year, as voted on by you the amazing readers! A big congratulations to all of the winners and nominees! We are truly blessed to have so many great Art Ed resources out there.
---