SDR
Software Defined Ham Radio. Software Defined Radio | Contesting & SDR. I'm a believer in true knob and button radio interfaces… and I'm not the only one.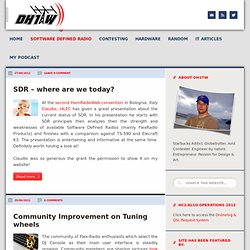 A small team, formed around Stu, K6TU developed the Contest Knob, which is now today manufactured by FlexRadio Systems under the name FlexControl. In this interview K6TU reveals the ideas behind the Flex-Control and describes in detail the steps from the design to the industrial production. Download the MP3 or subscribe in iTunes to my podcast! Disc Jockeys influence on SDR | Contesting & SDR. The User Interface of computers suck when it comes to Radio Controlling.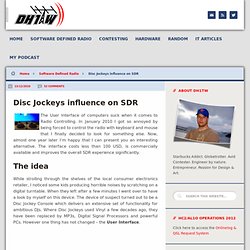 In January 2010 I got so annoyed by being forced to control the radio with keyboard and mouse that I finally decided to look for something else. Now, almost one year later I'm happy that I can present you an interesting alternative. The interface costs less than 100 USD, is commercially available and improves the overall SDR experience significantly.
While strolling through the shelves of the local consumer electronics retailer, I noticed some kids producing horrible noises by scratching on a digital turntable. When they left after a few minutes I went over to have a look by myself on this device. DSP - Digital Signal Processing. Softrock Software Defined Radio Homepage (www.wb5rvz.com) Software Defined Radio This site is devoted to the area of Software Defined Radio (SDR), more specifically, the "Softrock" series of technology sampler kits and the GenesisRadio.Com SDR transceiver.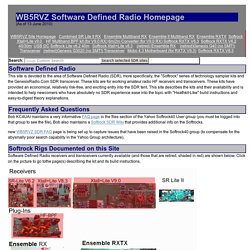 These kits are for working amateur radio HF receivers and transceivers. These kits have provided an economical, relatively risk-free, and exciting entry into the SDR tent. This site describes the kits and their availability and is intended to help newcomers who have absolutely no SDR experience ease into the topic with "Heathkit-Like" build instructions and easy-to-digest theory explanations. Frequently Asked Questions. Websdr.org. Software Defined Ham Radio. RFspace SDR-14 Software Defined Receiver, RF Space sdr14. Specifications | Screens | Spectral Scan | Spectrograms | Front Panel | Rear Panel | F.A.Q.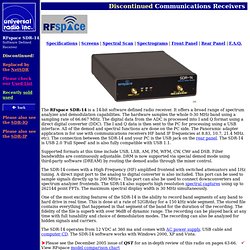 The RFspace SDR-14 is a 14-bit software defined radio receiver. It offers a broad range of spectrum analyzer and demodulation capabilities. The hardware samples the whole 0-30 MHz band using a sampling rate of 66.667 MHz. The digital data from the ADC is processed into I and Q format using a direct digital converter (DDC). The I and Q data is then sent to the PC for processing using a USB interface.
---