Microblogging
« The unripened word | Main | Tim writes a book » April 28, 2009 The biggest crowd on the web today is the one streaming through Twitter's entryway.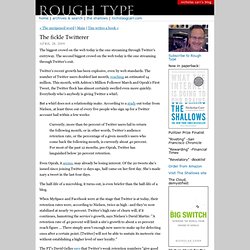 Rough Type: Nicholas Carr's Blog: The fickle Twitterer
Finding Utility in the Jumble of Tweeted Thoughts
16 Examples of Huge Brands Using Twitter for Business
Commuter Feed Uses Twitter for Localized Traffic Reports - ReadW
Twitter was originally designed as an app that would allow people to share information about what they were doing within a distributed group setting. It's something akin to a collection of automatically forming email discussion lists (except not via email).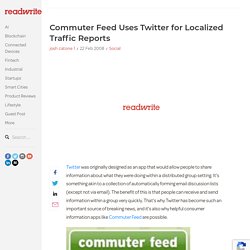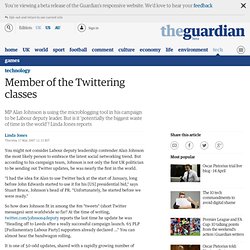 Member of the Twittering classes | Technology
You might not consider Labour deputy leadership contender Alan Johnson the most likely person to embrace the latest social networking trend. But according to his campaign team, Johnson is not only the first UK politician to be sending out Twitter updates, he was nearly the first in the world.
When you think of Twitter, you probably think of a microblogging tool that helps you connect with friends across the world. But not every Tweeter uses their account just to chat back and forth with their online friends. Some have come up with truly creative ways to use their account.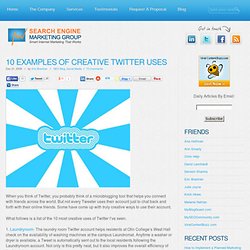 10 Examples of Creative Twitter Uses | Houston Search Engine Mar
Twingly Launches Microblogging Search Engine
Twitter and Yammer Test Dot-Com Business Models
Is the Enterprise Ready for Microblogging Tools Like Twitter? -
By Aaron Strout and Joe Cascio Although experts in the social media space have been talking about how businesses might adopt microblogging tools like Twitter and Plurk, only recently have we started to see a series of new vendors cropping up in the enterprise microblogging space. This has been due in part to businesses needing to figure out how Twitter can benefit the enterprise.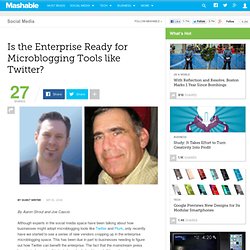 Yammer: A 'Twitter for the enterprise' | Webware : Coo
(Credit: Yammer) I recently covered Socialcast, a "Friendfeed for business," and liked it a lot. It takes emerging social interaction models that people are just now getting accustomed to and adapts them for business. Here at TechCrunch50, the idea is also in evidence with Yammer, more of a "Twitter for business" than Socialcast, since it doesn't seem to be able to pull in external feeds the same way.