AR&Games
Perplex City & Making ARGS Pay | Transmythology. I wasn't able to attend last night's Transmedia meetup in New York City, but I was able to catch most of it via a video stream very kindly provided by hosts Aina Abiodun and Mike Knowlton .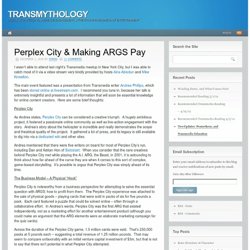 The main event featured was a presentation from Transmedia writer Andrea Phillips , which has been stored online at livestream.com . I recommend you tune in, because her talk is extremely insightful and presents a lot of information that will soon be essential knowledge for online content creators. Here are some brief thoughts: Perplex City As Andrea states, Perplex City can be considered a creative triumph. Jouer dans la rue, jouer avec la rue, 3 outils qui déchirent « Faismoijouer.
La rue, nouveau terrain de jeu Nombreux sont les studios et les compagnies qui depuis quelques années s'intéressent au différents moyens de faire sortir les gamers de leur tanière pour leur faire reconquérir les rues des villes, espaces publics notoirement désertés par le jeu quoi qu'on en dise – les initiatives de Nike qui organisait son second Nike 10K à Paris ce week-end par exemple ou de l'American Heart Association avec CryptoZoo et la longue liste de Jeux en Réalité Alternative qui propulsent les participants dans les live events sont là pour le prouver.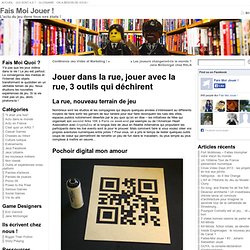 Mais comment faire si vous voulez créer vos propres aventures numériques entre potes ? QR Code Stencil Generator and QR Hobo Codes. Yep, it's a QR code stencil generator!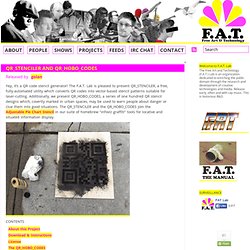 The F.A.T. Lab is pleased to present QR_STENCILER, a free, fully-automated utility which converts QR codes into vector-based stencil patterns suitable for laser-cutting. Additionally, we present QR_HOBO_CODES, a series of one hundred QR stencil designs which, covertly marked in urban spaces, may be used to warn people about danger or clue them into good situations. De la difficulté dans les jeux. AR Games. The MIT Teacher Education Program, in conjunction with The Education Arcade, has been working on creating "Augmented Reality" simulations to engage people in simulation games that combine real world experiences with additional information supplied to them by handheld computers.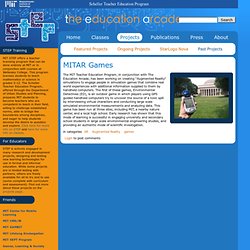 The first of these games, Environmental Detectives (ED), is an outdoor game in which players using GPS guided handheld computers try to uncover the source of a toxic spill by interviewing virtual characters and conducting large scale simulated environmental measurements and analyzing data. This game has been run at three sites, including MIT, a nearby nature center, and a local high school. Early research has shown that this mode of learning is successful in engaging university and secondary school students in large scale environmental engineering studies, and providing an authentic mode of scientific investigation. Angry Birds. The Extraordinary, Underground Museum of Soviet Arcade Games. This article amazes the hell outta me.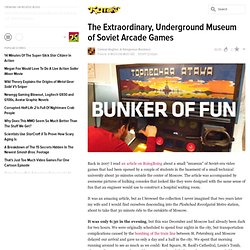 I love reading on how different countries and cultures shared popular past times like video games and movies, and all the little "quirks" that would seem weird to average Western-born people. This was somewhat similar to how it was in Korea during the 80's for me as a kid. Gameful | Home. What Can We Say With Games? I suppose earlier generations had to sit through all this huffing and puffing with the invention of television, the phone, cinema, radio, the car, the bicycle, printing, the wheel and so on, but you would think we would learn the way these things work, which is this:everything that's already in the world when you're born is just normal;anything that gets invented between then and before you turn thirty is incredibly exciting and creative and with any luck you can make a career out of it;anything that gets invented after you're thirty is against the natural order of things and the beginning of the end of civilisation as we know it until it's been around for about ten years when it gradually turns out to be alright really.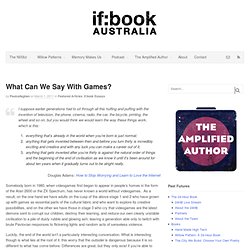 Douglas Adams: How to Stop Worrying and Learn to Love the Internet Somebody born in 1980, when videogames first began to appear in people's homes in the form of the Atari 2600 or the ZX Spectrum, has never known a world without videogames. C'est quoi un Alternate Reality Game (ou Jeu en Réalité Alternée) ? « Fais-Moi Jouer ! « Un jeu en réalité alternée (Alternate Reality Game – ARG) est un jeu multimédia, qui de manière délibérée entretient le flou entre les expériences perçues lors du jeu et hors du jeu », nous dit l'article Wikipédia en Français.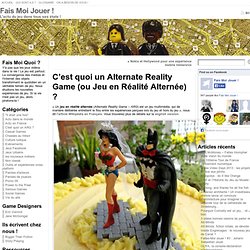 Vous trouverez plus de détails sur la english version. Nous sommes assez perplexes quant à la formalisation d'idées aussi larges que les nouvelles formes de jeu et de collaboration utilisant les technologies les plus innovantes mais aussi les plus vielles. Les ARG sont sans doute le cheval de Troie dans lequel se cachent diverses formes de recherches du plaisir. The Very Important List Of PC Games, Part 5/5 | Rock, Paper, Shotgun#more-51089. By Kieron Gillen on February 18th, 2011 at 1:00 pm.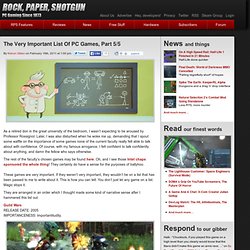 As a retired don in the great university of the bedroom, I wasn't expecting to be aroused by Professor Rossignol. Later, I was also disturbed when he woke me up, demanding that I spout some waffle on the importance of some games none of the current faculty really felt able to talk about with confidence. Of course, with my famous arrogance, I felt confident to talk confidently about anything, and damn the fellow who says otherwise. The rest of the faculty's chosen games may be found here. Oh, and I see those Intel chaps sponsored the whole thing! Quiz cinéma : trouvez le film dont la scène est extraite. PODCAST 172 : Les filles et le jeu vidéo - Qui sont ces 47% de joueurs qui sont des joueuses ? Écouter le podcast : Autres options : Avec la Saint-Valentin lundi, il fallait bien qu'on laisse un peu plus de place que d'ordinaire, dans les podcasts hebdomadaires, au beau sexe !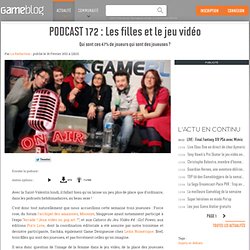 C'est donc tout naturellement que nous accueillons cette semaine trois joueuses : Force rose, du forum l'archipel des amazones, Moossye, bloggeuse ayant notamment participé à l'expo "Arcade ! FourSquare in Hell: augmented reality games discover demons. Augmented reality games (ARGs) are often interesting in theory—and sometimes in practice—but just as often they require far too much work to actually be enjoyable.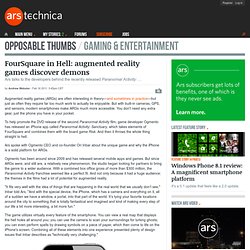 But with built-in cameras, GPS, and sensors, modern smartphones make ARGs much more accessible. You don't need any extra gear, just the phone you have in your pocket. To help promote the DVD release of the second Paranormal Activity film, game developer Ogmento has released an iPhone app called Paranormal Activity: Sanctuary, which takes elements of FourSquare and combines them with the board game Risk. And then it throws the whole thing straight to hell. A conversation on TED.com: We spend 3 billion hours a week as a planet playing videogames. Is it worth it? How could it be MORE worth it?
Apprendre à lire avec la réalité augmentée. Apprendre à lire avec la réalité augmentée Que c'est dur pour les professeurs d'apprendre la lecture, les mots et l'amour de l'écriture. Une équipe américaine travaillant dans un jardin d'enfants en Georgie (USA) explore un système très simple pour donner envie aux enfants de lire, d'apprendre, de composer des phrases. Grâce à la réalité augmentée, l'apprentissage devient un jeu, un vrai plaisir pour les petits et leurs enseignants. Le programme Letters Alive a été mis au point par la société Logical Choice.Cette entreprise a pour vocation de créer des outils qui aident à l'intégration des nouvelles technologies dans l'enseignement.
Cette application est la première à être créée pour les écoles. In Memoriam - Le Dernier Rituel - Site officiel. Not Your Typical Game | META Assassins. Feb 6, 2011 Be prepared to venture out of your surfing comfort zone and click with care. META ASSASSINS is an international online assassination game tournament where you kill to stay alive and decipher real jobs to earn cash. A game like no other, the grand prize of a pair of golden ticket to anywhere in the world awaits the one who rises above the rest to pass the test. Metagames: Games About Games. Abusive Games Penn & Teller's Smoke & Mirrors (Sega CD, 1995).
Download. Quentin T's videos. Vidéo Cluedo paranormal : quand la réalité rattrape la fiction ! de LCIWAT (Actualité - LCIWAT. BioShock. © 2002-2008. Take-Two Interactive Software and its subsidiaries. Developed by 2K Boston, 2K Australia, and 2K Marin. BioShock, 2K Games, 2K Boston, 2K Australia, 2K Marin, the 2K logo, the 2K Boston logo, 2K Australia logo, the 2K Marin logo and Take-Two Interactive Software are all trademarks and/or registered trademarks of Take-Two Interactive Software, Inc. Microsoft, Windows, the Windows Vista Start button, Xbox, Xbox 360, Xbox LIVE, and the Xbox logos are trademarks of the Microsoft group of companies and are used under license from Microsoft. "Playstation," "PLAYSTATION" and "PS" Family logo are trademarks of Sony Computer Entertainment Inc.
Minics.com. La réalité augmentée en question - note de veille Think Digital n°1. Contexte et défnition La réalité augmentée,dans son acception communément admise, désigne les systèmes qui reviennent à superposer au monde réel, des éléments 2D ou 3D,virtuels, afn de compléter notre perception du monde, en temps réel. Dans ce système, qui donne à l'utilisateur une place à part entière, l'interaction entre son environnement et lui est constante. Antiloop Augmented Reality Demo. Lowlifes. Jeu vidéo - Article - Les serious games, un objet en construction. Layar augmented reality browser now a reality on Android; coming soon to iPhone | BGR | Boy Genius Report. InsideAR - Simon Jobling, Commercial Director - HH&S. Urban Golf For The Android. Augmented Reality Keepie Uppies. Uninvited DIY exhibition at MoMA NYC. The worlds largest augmented reality project.
The world's first mobile Augmented Reality Special Magazine Edition. The Worlds First Audio Augmented Reality Browser. The Gorillaz Augmented Reality Campaign. Superb Augmented Reality Travel Application from Hotels.com. Rock'em Sock'em Robots Augmented Reality Game. Nokia vous fait vivre une expérience interactive sur Youtube. Travel Guides for iPhone & iPod Touch | mTrip Travel Guides.
Augmented Reality Jigsaw Live. JEUX enquetes. Augmented reality mobile game begins in Dublin... unless you've got an Android. Augmented Reality Partners. ARNY - Augmented Reality New York Monthly Meetup - July is hot! - ARNY - Augmented Reality New York (New York, NY. AR MEETUP - Video Hub. App unlocks augmented reality embedded in images. All-New Scion tC AR Game.
Acrossair | Apple iPhone Development. Wikitude. Augmented Planet Readers Choice Awards 2010. Perplex City & Making ARGS Pay | Transmythology. Transmedia Talk Podcast – Episode 9. 4D Fiction - Exploring the many dimensions of creative storytelling… Scanbucks™ - Trailer - App preview - La chasse aux trésors en magasin (FR) Tableaux en 3D.
---