Searchengine
PowerPoint(PPT) Search Engine - Search and Share PPT Template & Slides with SlideWorld - A PPT Search Engine. OmniMedicalSearch.com - MetaSearch the Medical Search Engines. Free Search and Download Powerpoint PPT Presentation Slides. PowerPoint search engine with thumbnail results - SlideFinder. "mission foods"
Seek and Ye Shall Find: Top Ten Alternative Search Engines. SlideShare. Video: Search multiple video services in one place with uLinkx - Lifehacker. Symptom Search. Quick Search Bookmarks. Top 25 Web 2.0 Search Engines. Online search is now a multi-billion dollar industry, with Google alone grossing over $3.5 billion in profits last year.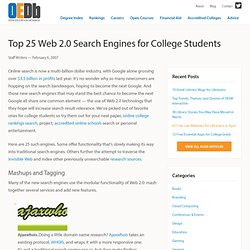 It's no wonder why so many newcomers are hopping on the search bandwagon, hoping to become the next Google. And those new search engines that may stand the best chance to become the next Google all share one common element — the use of Web 2.0 technology that they hope will increase search result relevance. We've picked out of favorite ones for college students so try them out for your next paper, online college rankings search, project, accredited online schools search or personal entertainment. Here are 25 such engines. Some offer functionality that's slowly making its way into traditional search engines.
MetaTube: browse 60 video sharing sites at once! Ask.com Search Engine - Better Web Search. Google Tutor » !POPULAR. Presentation Zen. With all the excitement concerning the worldwide release of the new Cosmos series with Neil deGrasse Tyson this month, it's a good time to repost this piece from 2009 on the remarkable Mae Jemison.
Young people need role models, and Dr. Jemison is a great one. According to The American Board for Certification of Teacher Excellence: "Mae Jemison, with her perseverance and commitment to science, serves as a great role model for future scientists everywhere. " Mae Jemison: The arts and sciences are not separate Mae Jemison is an astronaut, a medical doctor, a scientist, an engineer, an art collector, and a dancer. Presentation Zen. Lessons from Steve's Keynote. I attended Steve's keynote address at Macworld Expo San Francisco this morning, and I took a picture of most of the slides that he used.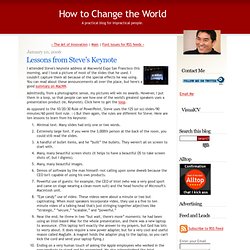 I couldn't capture them all because of the special effects he was using. You can read about these announcements all over the place, but here's a good summary on MacNN. Admittedly, from a photographic sense, my pictures will win no awards. Google Blog Search.
---