Searchengine
"mission foods" - SlideFinder slide search - Page 1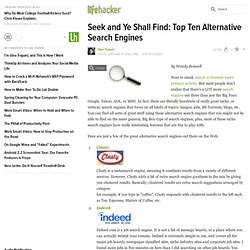 by Wendy Boswell Next to email, search is Internet users' primary activity . But most people don't realize that there's a LOT more search engines out there than just the Big Four: Google, Yahoo, AOL, or MSN. In fact, there are literally hundreds of really great niche, or vertical, search engines that focus on all kinds of topics: images, jobs, Bit Torrents, blogs, etc. You can find all sorts of great stuff using these alternative search engines that you might not be able to find on the more general, Big Box-type of search engines; plus, most of these niche search engines have really interesting features that are fun to play with. Here are just a few of the great alternative search engines out there on the Web.
Seek and Ye Shall Find: Top Ten Alternative Search Engines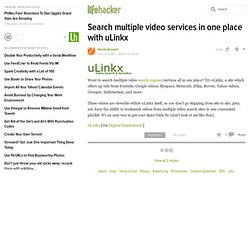 Video: Search multiple video services in one place with uLinkx - Lifehacker
Want to search multiple video search engines /services all in one place? Try uLinkx, a site which offers up vids from Youtube, Google videos, Myspace, Metacafe, iFilm, Revver, Yahoo videos, Grouper, Dailymotion, and more. These videos are viewable within uLinkx itself, so you don't go skipping from site to site; plus, you have the ability to bookmark videos from multiple video search sites in one convenient playlist. It's an easy way to get your Spice Girls fix (don't look at me like that).
Symptom Search
Social Bookmark Search | Infopirate.org
Quick Search Bookmarks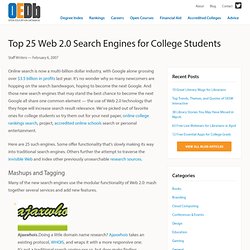 Tuesday 6th February, 2007 Online search is now a multi-billion dollar industry, with Google alone grossing over $3.5 billion in profits last year. It's no wonder why so many newcomers are hopping on the search bandwagon, hoping to become the next Google. And those new search engines that may stand the best chance to become the next Google all share one common element — the use of Web 2.0 technology that they hope will increase search result relevance. We've picked out of favorite ones for college students so try them out for your next paper, online college rankings search , project, or personal entertainment. Here are 25 such engines.
Top 25 Web 2.0 Search Engines
Presentation Zen
One of the problems with 20th century approaches to education, according to learning activist and Tokyo International School founder Patrick Newell , is that children are taught what to learn but not how to learn, "and they are slowing educated out of their innate curiosity and creativity." 21:21 The Movie —which is 21 minutes and 21 seconds long— contains interviews with many thought leaders including David Perkins, Kirpal Singh, Philip Zimbardo, David Kelley, and many others. An overview of the elements of 21st century learning can be seen here on the Partnership for 21st Century Skills website . Obviously the core subjects are still important, including the "3 Rs," but it's so much more than that. "As teachers and parents," says Newell, "we need to create learning environments which nurture creativity and inspire confidence."
People Search and Public Record Toolbar | Firefox Add-ons | Mozilla Corporation
Dapper is now part of Yahoo!, powering Yahoo!'s innovative and results-driven Smart Ads.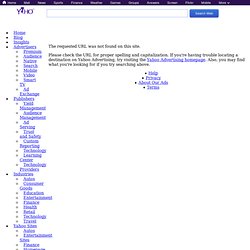 I attended Steve's keynote address at Macworld Expo San Francisco this morning, and I took a picture of most of the slides that he used. I couldn't capture them all because of the special effects he was using. You can read about these announcements all over the place, but here's a good summary on MacNN . Admittedly, from a photographic sense, my pictures will win no awards.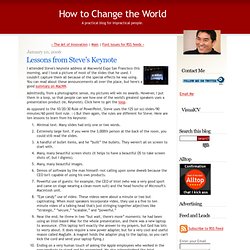 Lessons from Steve's Keynote