Presentation
Presentation Theory. Our studies of over 3000 people reveal that on average, bullet-point slides yield a 15-20% recall of information after just an hour.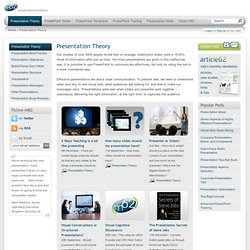 Yet most presentations are given in this ineffectual, way. It is possible to use PowerPoint to communicate effectively, but only by using the tool in a more considered way. Effective presentations are about clear communication. To present well, we need to understand when and why to use visual aids, what audiences are looking for, and how to make our messages stick. Presenting Sticky Ideas. Presenting something never done before. Brain Rules for Presenters. Influencing change through presentations. Why most presentations suck. Four Steps For Better PowerPoint Presentations. Improving Einstein's Theories - The Me-Earth Equivalence. Pursue your dream--and never accept a proven solution! This is ... Paul Otlet. 10 Tips for Designing Presentations That Don't Suck: Pt.1. Powerpoint has produced more bad design in its day that perhaps any other digital tool in history with the possible exception of Microsoft paint.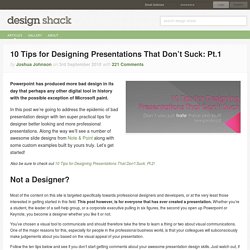 In this post we're going to address the epidemic of bad presentation design with ten super practical tips for designer better looking and more professional presentations. Along the way we'll see a number of awesome slide designs from Note & Point along with some custom examples built by yours truly. Let's get started! Also be sure to check out 10 Tips for Designing Presentations That Don't Suck: Pt.2! Skills for Presenters. Presentation lessons for entrepreneurs. One Hour PowerPoint: Ten Strategies for Improving Presentations. Presenting Sticky Ideas. Powerpoint. Simply stunning presentations. Step-by-Step Tutorial on Prezi Basics | Prezi Learn Center. Prezi Manual/FAQ Overview | Recent.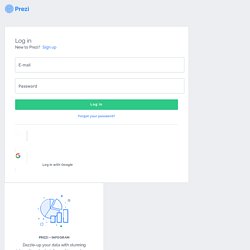 How To Improve Your Business Presentation Skills. How To Improve Your Business Presentation Skills In the Book of Lists you will find that the number one fear of most Americans is speaking in public. 42% fear speaking in public more than anything else.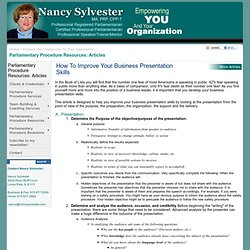 As a basis of comparison, only 9% fear death as their number one fear! As you find yourself more and more into the position of a business leader, it is important that you develop your business presentation skills. This article is designed to help you improve your business presentation skills by looking at the presentation from the point of view of the purpose, the preparation, the organization, the support and the delivery. Presentation: Determine the Purpose of the objective/purpose of the presentation. Presentation Magazine. Critical Presentation Skills--Research to Practice. ERIC Digest. ERIC Identifier: ED291205 Publication Date: 1987-00-00 Author: Source: ERIC Clearinghouse on Handicapped and Gifted Children Reston VA.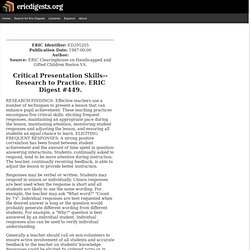 RESEARCH FINDINGS: Effective teachers use a number of techniques to present a lesson that can enhance pupil achievement. These teaching practices encompass five critical skills: eliciting frequent responses, maintaining an appropriate pace during the lesson, maintaining attention, monitoring student responses and adjusting the lesson, and ensuring all students an equal chance to learn.
ELICITING FREQUENT RESPONSES: A strong positive correlation has been found between student achievement and the amount of time spent in question-answering interactions. The Extreme Presentation(tm) Method: Prezi: the compromise break. I am very excited about Prezi.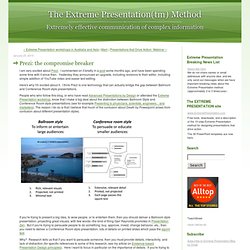 I commented on it briefly in a post some months ago, and have been spending some time with it since then. Yesterday they announced an upgrade, including revisions to their editor, including simple addition of YouTube video and easier text editing. Here's why I'm excited about it. I think Prezi is one technology that can actually bridge the gap between Ballroom and Conference Room style presentations.
---