LinuxWine
Wine HQ - Installing Wine from source. Before installing Wine from source, make sure you uninstall any Wine binary packages you may have on your system.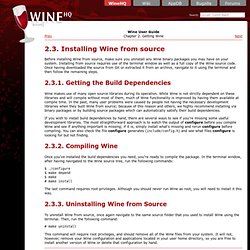 Installing from source requires use of the terminal window as well as a full copy of the Wine source code. Once having downloaded the source from Git or extracted it from an archive, navigate to it using the terminal and then follow the remaining steps. Wine HQ - Wine HowTo. Before you install Wine, make sure that there is no previous Wine installation on your system, either from a package or from source.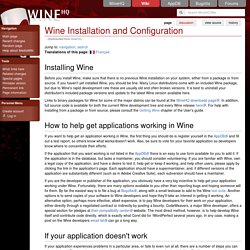 If you haven't yet installed Wine, you should be fine. See the Removing old Wine versions chapter in the User Guide for details. Many Linux distributions come with an included Wine package, but due to Wine's rapid development rate these are usually old and often broken versions. It is best to uninstall your distribution's included package versions and update to the latest Wine version available here. FrontPage - The Official Wine Wiki. Wine HQ - Wine for Debian based distributions. Debian-based distributions utilize a special tool for managing packages known as APT.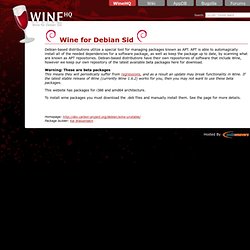 APT is able to automagically install all of the needed dependencies for a software package, as well as keep the package up to date, by scanning what are known as APT repositories. Debian-based distributions have their own repositories of software that include Wine, however we keep our own repository of the latest available beta packages here for download. Warning: These are beta packagesThis means they will periodically suffer from regressions, and as a result an update may break functionality in Wine. Wine HQ - Documentation. Documentation Search: Documentation Guides Wine User Guide How to use and configure Wine for running Windows applications. formats: Online | HTML | PDF | PostScript Winelib User Guide How to use Wine to port Windows applications to Linux. formats: Online | HTML | PDF | PostScript Wine Developers Guide How to hack on Wine. formats: Online | HTML | PDF | PostScript How to help get applications working in Wine A short guide for those who want to help us make things work.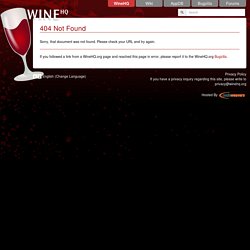 Frank's Corner, Running Windows applications and games on Linux/title> Wine Application DB - Wine Application Database. Installing WINE on Ubuntu Linux | Linux for Travelers. If you are using Ubuntu Linux, you can get WINE through the Synaptic Package Manager. through the menu: System —> Administration —> Synaptic Package Manager.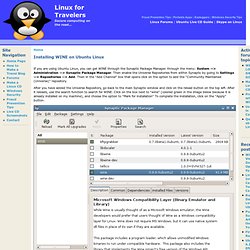 Then enable the Universe Repositories from within Synaptic by going to Settings —> Repositories —> Add. Then in the "Add Channel" box that opens click on the option to add the "Community Maintained (Universe)" repository. After you have added the Universe Repository, go back to the main Synaptic window and click on the reload button on the top left. After it reloads, use the search function to search for WINE. Click on the box next to "wine" (colored green in the image below because it is already installed on my machine), and choose the option to "Mark for installation" To complete the installation, click on the "Apply" button.
Darwine - News. Wine HQ - Wine Binary Downloads. Supported Wine This endorsement is the primary recognition that CodeWeavers has requested in exchange for hosting the Wine web site.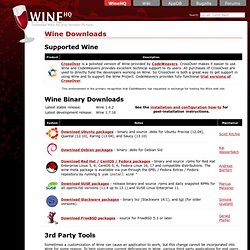 Wine Binary Downloads.
---