LinuxWine
Before installing Wine from source, make sure you uninstall any Wine binary packages you may have on your system. Installing from source requires use of the terminal window as well as a full copy of the Wine source code. Once having downloaded the source from Git or extracted it from an archive, navigate to it using the terminal and then follow the remaining steps.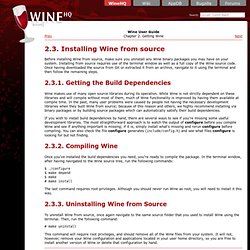 Wine HQ - Installing Wine from source
Wine HQ - Wine HowTo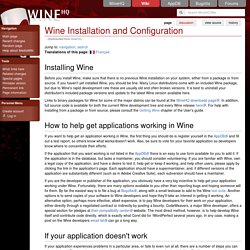 Before you install Wine, make sure that there is no previous Wine installation on your system, either from a package or from source.
FrontPage - The Official Wine Wiki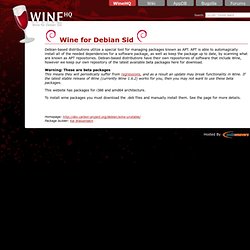 Debian-based distributions utilize a special tool for managing packages known as APT.
Wine HQ - Wine for Debian based distributions
Wine HQ - Documentation
Documentation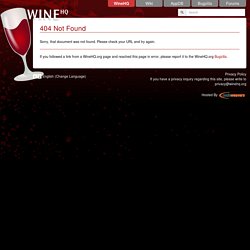 Frank's Corner, Running Windows applications and games on Linux/title>
Installing WINE on Ubuntu Linux | Linux for Travelers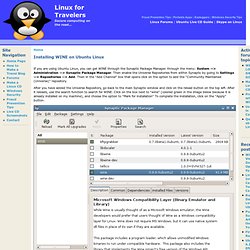 If you are using Ubuntu Linux, you can get WINE through the Synaptic Package Manager. through the menu: System —> Administration —> Synaptic Package Manager. Then enable the Universe Repositories from within Synaptic by going to Settings —> Repositories —> Add.
Darwine - News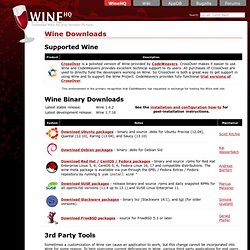 Wine HQ - Wine Binary Downloads
Supported Wine This endorsement is the primary recognition that CodeWeavers has requested in exchange for hosting the Wine web site. Wine Binary Downloads