Official Catholic Sites
The Catholic Diocese of Raleigh. Faithful gather to celebrate Palm Sunday at Cathedral Faithful gathered at Sacred Heart Cathedral on Sunday, April 13, 2014, for Palm Sunday Mass.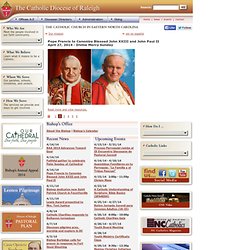 On Palm Sunday, Catholics celebrate Jesus' triumphal entrance to Jerusalem, where people greeted him by waving palm fronds. Today, Catholics still use palms to commemorate what was a joyful event.Bishop Michael F. The Holy See. United States Conference of Catholic Bishops.
---