Multimedia
You can integrate it in any website for free without even using Flash. It's fully customizable and uses the Image Scroller FX component, having the same customizable variables of the scroller and adding many gallery properties, image transitions and text effects. The image scroller can be placed on any position. The images in the gallery can be shown as boxFit, bestFit or forceFit. The specific properties of the Image Scroller FX like vertical or horizontal alignment, roll over behaviors, thumb spacing, scrolling and speed properties, HTML/CSS formatted tooltip, background and shade properties are also available. ... (show more)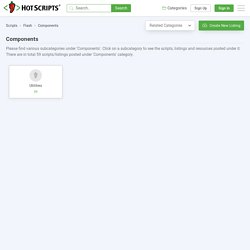 Collection of Flash Components (Free / Commercial)
Advanced Flash Components
Download Flash Components, Flash files, Flash Photo Gallery, Flash Menus, Flash XML Driven, Flash Effects, Flash Masks, Flash Scrollers, Flash Templates, SWF, Banners, Layouts, and Images.
10 Useful Flash Components for Graphing Data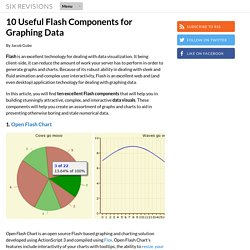 Flash is an excellent technology for dealing with data visualization. It being client-side, it can reduce the amount of work your server has to perform in order to generate graphs and charts. Because of its robust ability in dealing with sleek and fluid animation and complex user interactivity, Flash is an excellent web and (and even desktop) application technology for dealing with graphing data. In this article, you will find ten excellent Flash components that will help you in building stunningly attractive, complex, and interactive data visuals.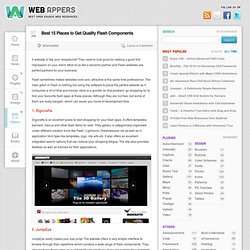 Best 15 Places to Get Quality Flash Components
A website is like your receptionist! They need to look good for making a good first impression on your client. Most of us like a dynamic partner and Flash websites are perfect partners for your business. Flash sometimes makes websites look cool, attractive at the same time professional.
Flash components and Flash files at FlashMint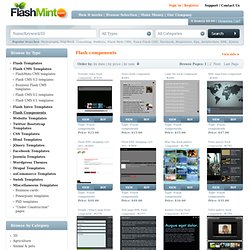 Flash components delivered by FlashMint will improve and extend the functionality of your Flash website. Stunning menus, buttons, navigation systems, video and music players, animations and 3D effects available here for immediate download are an easy way to build a Flash Website! Flash Components designed at FlashMint will be much appreciated by webmasters and anyone whose business is connected to web development. Extend your Flash application functionality and deliver a high-quality product easily, make your work less time and effort consuming using FlashMint Flash components.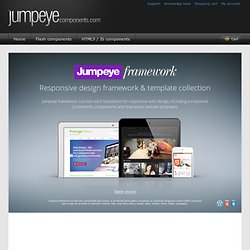 Jumpeye Flash Components
Responsive design framework & template collection Jumpeye framework is a rock-solid foundation for responsive web design, including exceptional UI elements, components and responsive website templates. Jumpeye framework includes the customizable grid system, a JavaScript photo gallery component, a JavaScript image and content slider component and a huge set of stylish UI elements: buttons, tabs, drop down menus, panels, alerts, tooltips, forms, tables, typography.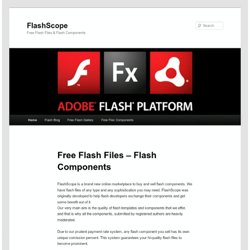 FlashScope is a brand new online marketplace to buy and sell flash components. We have flash files of any type and any sophistication you may need. FlashScope was originally developed to help flash developers exchange their components and get some benefit out of it. Our very main aim is the quality of flash templates and components that we offer, and that is why all the components, submitted by registered authors are heavily moderated. Due to our prudent payment rate system, any flash component you sell has its own unique comission percent. This system guarantees your hi-quality flash files to become prominent.
Flash Components & Files - FlashScope
Advanced Flash Components
Flash Components | Galleries, slideshows, menus, sound, video, UI components