Html Forms
Create User Entry Forms In Word 2010. Word 2010 has a multitude of Form Content Controls that enable users to instantly create a simple form for taking; input from others, distributing it as e-survey, making a questionnaire, etc.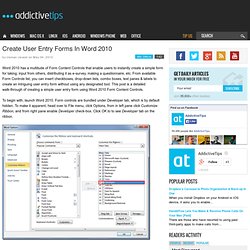 From available Form Controls list, you can insert checkboxes, drop-down lists, combo boxes, text panes & labels to create an intriguing user entry form without using any designated tool. This post is a detailed walk-through of creating a simple user entry form using Word 2010 Form Content Controls. To begin with, launch Word 2010. Form controls are bundled under Developer tab, which is by default hidden. Create HTML forms for your Website in minutes. Easily Create Free Web Forms With Zoho Html Form Builder : Zoho Creator. Collecting data from your website visitors?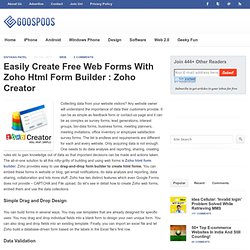 Any website owner will understand the importance of data their customers provide. It can be as simple as feedback form or contact-us page and it can be as complex as survey forms, lead generations, interest groups, bio-data forms, business forms, meeting planners, meeting invitations, office inventory or employee satisfaction survey forms. The list is endless and requirements are different for each and every website. Only acquiring data is not enough. One needs to do data analysis and reporting, sharing, creating rules etc to gain knowledge out of data so that important decisions can be made and actions taken. Make A Fillable Form In Word 2010 & Collect Data The Easy Way. Creating fillable forms are an advanced aspect of MS Word, but it's a skill you would do well to master; especially if you routinely gather data or feedback from a target audience.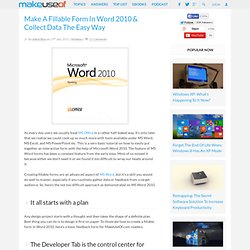 So, here's the not too difficult approach as demonstrated on MS Word 2010. It all starts with a plan. How to create an electronic form using Word 2010 content controls. Use Word 2010's content controls to create easy-to-use electronic forms.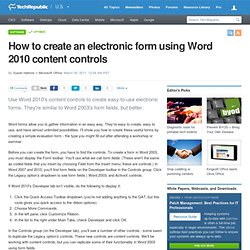 They're similar to Word 2003's form fields, but better. Word forms allow you to gather information in an easy way. They're easy to create, easy to use, and have almost unlimited possibilities.
---