To Read: poss useful, who knows.
Www.hodder.co.uk > Home page. Walker Books - Walker Books - Home. Faber unveils digital alliance | theBookseller.com. 2009 Book & Book Cover Illustration Awards. 374 search results for activities Exhibition – Disobedient Objects 26 July 2014 – 1 February 2015: From Suffragette teapots to protest robots, this exhibition will be the first to examine the powerful role of objects in movements for social change.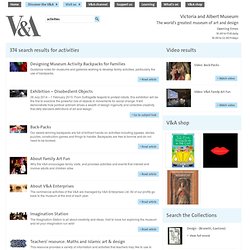 It will demonstrate how political activism drives a wealth of design ingenuity and collective creativity that defy standard definitions of art and design. Irreference. Subterranean Press. Templar Publishing. Children's books, Teen books, Writers, Authors, Illustrators, Librarians, Agents, Editors, Publicists, Publishers, and Blogs.
---