To Read: poss useful, who knows.
www.hodder.co.uk > Home page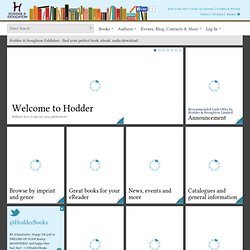 A rare and important insight into the mind of an autistic child. 'Composed by a writer still with one foot in childhood, and whose autism was at least as challenging and life-defining as our son's, THE REASON I JUMP was a revelatory godsend. Reading it felt as if, for the first time, our own son was talking to us about what was happening inside his head.' Written by Naoki Higishida when he was only thirteen, this remarkable book explains the often baffling behaviour of autistic children and shows the way they think and feel - such as about the people around them, time and beauty, noise, and themselves. Naoki abundantly proves that autistic people do possess imagination, humour and empathy, but also makes clear, with great poignancy, how badly they need our compassion, patience and understanding.
Walker Books - Walker Books - Home
Faber unveils digital alliance | theBookseller.com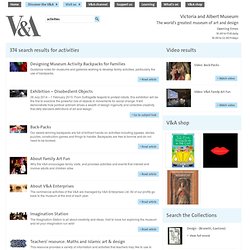 381 search results for activities Exhibition – Disobedient Objects 26 July 2014 – 1 February 2015: From Suffragette teapots to protest robots, this exhibition will be the first to examine the powerful role of objects in movements for social change. It will demonstrate how political activism drives a wealth of design ingenuity and collective creativity that defy standard definitions of art and design.
2009 Book & Book Cover Illustration Awards
Irreference
They tell ya, 'Never hit a man with a closed fist.' But it is, on occasion, hilarious." —Captain Malcolm Reynolds The fine folks here at Quirk Books asked me compile a list of my favorite punches, which I thought was pretty open-ended—like punches I've received?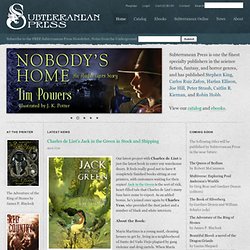 Latest News We're pleased to announce the newest The River of Souls, Robert McCammon's latest installment in the Matthew Corbett series of historical thrillers. Please note that we'll have fewer signed copies of the Trade Edition than ever before, so don't hesitate to get your order in.
Subterranean Press
latest news . . . Pictura launches stunning new range! Pictura, a Templar imprint launched on 1st October, is a stunning range of black-and-white artworks to collect and colour, for ages 9 to 90. Each Pictura concertina can be pored over, put on the mantelpiece or carried around in your bag. Unfold a Pictura and you'll find a piece of art just waiting for you to make it your own.
Templar Publishing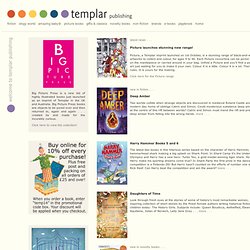 JacketFlap connects you to the work of more than 200,000 authors, illustrators, publishers and other creators of books for Children and Young Adults #MoP14, #poem, art, Blog, books, Books - Grown Up, Books - Historical Fiction, Books - Juvenile, Books - YA, Children, Creative Nonfiction, drawing, fantasy, fiction, freelance illustrator, illustration, month of poetry, News, painting, poetry, publishing, reading, Recent Posts, Reviews, running, sketch, Submissions, William Palacio, WritingFollowing are 20 random pictures from our Members' profiles. Click the arrow keys to navigate, and click a picture to view a larger size.
Children's books, Teen books, Writers, Authors, Illustrators, Librarians, Agents, Editors, Publicists, Publishers, and Blogs