Peabody571
Kristen
Featured articles and videos - Microsoft Home Magazine. Lists of ideas of things to do in your life on SuperViva - Make a Life List - Achieve Your Goals - Find Fun Things To Do for Your Bucket List. Sign in / Sign up. Travel Portal For Your Travel Needs: Travel Deals, Reviews, Travel Tips, and More at JohnnyJet.com! Travel Tip of the Day: Carry a Whistle April 11, 2014 By Johnny Jet 2 Comments Carry a Whistle My friend Lavanya Sunkara recently wrote an excellent post entitled "Ten Smart Tips for Solo Women Travelers.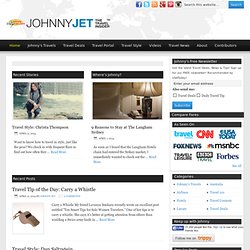 " One of her tips is to carry a whistle. Learn English - Speak English - English Grammar, writing, vocabulary, practical English usage and grammar exercises.
Blogs I Love. How-to.. Great wastes of time. Blogging info. Career. General info. Write.
---
peabody571 Oct 30 2010

Thanks!! hopefully I can provide some unique sites!!
---