Bases de données Payantes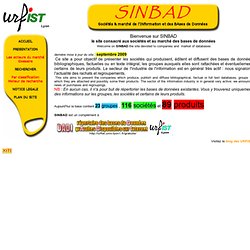 Bienvenue sur SINBAD le site consacré aux sociétés et au marché des bases de données Welcome on SINBAD the site devoted to companies and market of databases dernière mise à jour du site : septembre 2009 Ce site a pour objectif de présenter les sociétés qui produisent, éditent et diffusent des bases de données bibliographiques, factuelles ou en texte intégral, les groupes auxquels elles sont rattachées et éventuellement certains de leurs produits. Le secteur de l'industrie de l'information est en général très actif : nous signalons l'actualité des rachats et regroupements. This site aims to present the companies which produce, publish and diffuse bibliographical, factual or full text databases, groups to which they are attached and possibly some their products.
Sinbad- Sociétés & marché de l'INformation et des BAses de Donné
FIZ Karlsruhe: Home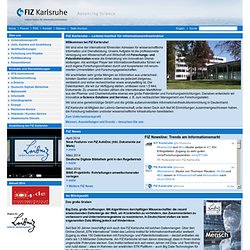 Trends in der Energieforschung Informationsportale und Services von FIZ Karlsruhe bilden starke Kombi: Das neue Forschungsportal Energiespeicher, der BINE Informationsdienst und die Patentdatenbanken in STN International Effiziente Energiespeicher sind eine Schlüsseltechnologie für das Gelingen der Energiewende in Deutschland. Aber welche Speichertechniken haben das meiste Potenzial? Welche Techniken sind schon auf dem Markt und wo wird schwerpunktmäßig gerade geforscht? Welche Innovationstrends zeigen sich international?
Questel - Propriété intellectuelle recherche marques et brevets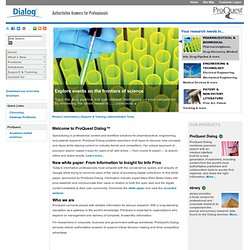 Welcome to ProQuest Dialog™ Specializing in professional content and workflow solutions for pharmaceutical, engineering, and patents research, ProQuest Dialog enables searchers of all types to discover new concepts and ideas while staying current on industry trends and competitors. Our unique approach to precision search makes it easy for users of all skill levels — from novice to expert — to search, refine and share results.
Mot de la semaine : RSE RSE, Le discours de la méthode de l'AMF à destination des émetteurs de BENOÎT MARPEAU, avocat au Barreau de Paris, associé Cotty Vivant Marchisio & Lauzeral, expert du Club des juristes. Lire l'article RSE LexisNexis lance Lexis® Kiosque destiné aux professionnels du droit et aux étudiants LexisNexis franchit une nouvelle étape dans son développement digital et propose aux juristes et futurs juristes d'accéder à un service de consultation de revues, et à l'achat de codes et d'ouvrages numériques, grâce à une application gratuite disponible sur tablettes et smartphones.