Statistics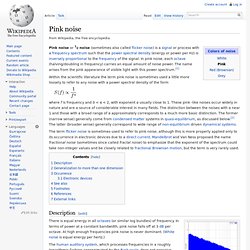 Pink noise or 1/ f noise (sometimes also called flicker noise ) is a signal or process with a frequency spectrum such that the power spectral density (energy or power per Hz) is inversely proportional to the frequency . In pink noise, each octave carries an equal amount of noise power. The name arises from the pink appearance of visible light with this power spectrum. [ 1 ] Within the scientific literature the term 1/f noise is sometimes used a little more loosely to refer to any noise with a power spectral density of the form where f is frequency and 0 < α < 2, with exponent α usually close to 1. These "1/ f -like" noises occur widely in nature and are a source of considerable interest in many fields.
Pink noise
There is a chapter on ``Coupling from the past,'' by James G. Propp and David B. Wilson , Chapter 22 of the textbook ''Markov Chains and Mixing Times,'' by David A. Levin , Yuval Peres , and Elizabeth L.
Web Site for Perfectly Random Sampling with Markov Chains:
A Lévy flight is a random walk in which the step-lengths have a probability distribution that is heavy-tailed . When defined as a walk in a space of dimension greater than one, the steps made are in isotropic random directions. The "Lévy" in "Lévy flight" is a reference to the French mathematician Paul Pierre Lévy . The term "Lévy flight" was coined by Benoît Mandelbrot , [ 1 ] who used this for one specific definition of the distribution of step sizes. He used the term Cauchy flight for the case where the distribution of step sizes is a Cauchy distribution , [ 2 ] and Rayleigh flight for when the distribution is a normal distribution [ 3 ] (which is not an example of a heavy-tailed probability distribution).
Lévy flight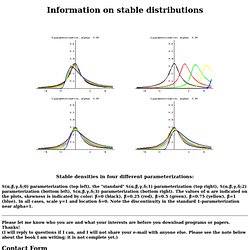 Applications of Heavy Tailed Distributions in Economics, Engineering and Statistics Conference. 3-5 June 1999. mathestate Web site for working on quantitative real estate problems, including some sections on stable distributions. For learning and theoretical experimentation purposes, choose Tools -> Tutorial Tools -> Tool #4 "Risk, Variation, and Tail Behavior". For estimating stable parameters from your own data set, choose Tools -> Hands On Tools -> Tool #7 "Stable Data Analysis". Mathematica package for stable distributions.
John Nolan's Stable Distribution Page
Autoregressive conditional heteroskedasticity
In econometrics , AutoRegressive Conditional Heteroskedasticity (ARCH) models are used to characterize and model observed time series. They are used whenever there is reason to believe that, at any point in a series, the terms will have a characteristic size, or variance . In particular ARCH models assume the variance of the current error term or innovation to be a function of the actual sizes of the previous time periods' error terms: often the variance is related to the squares of the previous innovations.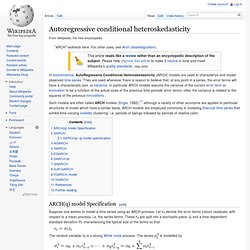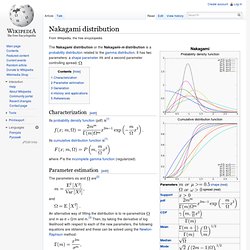 Nakagami distribution
The Nakagami distribution or the Nakagami- m distribution is a probability distribution related to the gamma distribution . It has two parameters: a shape parameter and a second parameter controlling spread, [ edit ] Characterization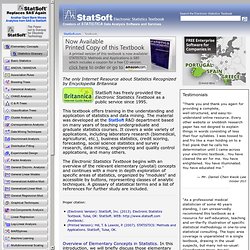 "As a professional medical statistician of some 40 years standing, I can unreservedly recommend this textbook as a resource for self-education, teaching and on-the-fly illustration of specific statistical methodology in one-to-one statistical consulting. The topic area coverage is unparalleled in a single textbook, drawing in the usual suspects, but many not-so-usual: Classification trees, Neural networks, Structural equation modeling, to name but a few. This book is an absolute friend-in-need when you need to get to the point fast, without fuss, in a way that anyone can understand." — Mr.