CSS
CSS Dock Menu. Vertical Center with CSS CSS forum at WebmasterWorld. Example #1: for: This is nice and easy when everything is measured just so.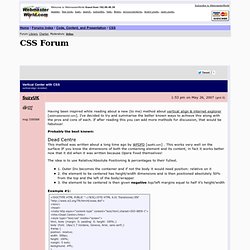 You need to know the containers height as well as the elements height. Jon Rohan · Creating Triangles in CSS. Pure CSS folded-corner effect – Nicolas Gallagher – Blog & Ephemera. Create a simple CSS folded-corner effect without images or extra markup.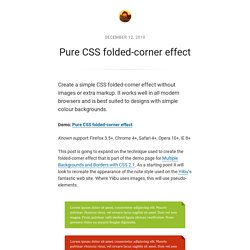 It works well in all modern browsers and is best suited to designs with simple colour backgrounds. Demo: Pure CSS folded-corner effect Known support: Firefox 3.5+, Chrome 4+, Safari 4+, Opera 10+, IE 8+ This post is going to expand on the technique used to create the folded-corner effect that is part of the demo page for Multiple Backgrounds and Borders with CSS 2.1. As a starting point it will look to recreate the appearance of the note style used on the Yiibu's fantastic web site.
---