CSS
Vertical Center with CSS CSS forum at WebmasterWorld
Having been inspired while reading about a new (to me) method about vertical align & internet explorer [webmasterworld.com]. I've decided to try and summarise the better known ways to achieve this along with the pros and cons of each. If after reading this you can add more methods for discussion, that would be fabulous!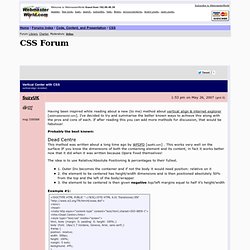 Jon Rohan · Creating Triangles in CSS
Pure CSS folded-corner effect – Nicolas Gallagher – Blog & Ephemera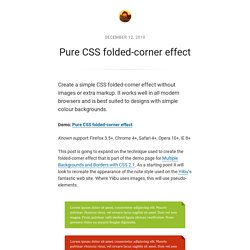 Create a simple CSS folded-corner effect without images or extra markup. It works well in all modern browsers and is best suited to designs with simple colour backgrounds. Demo: Pure CSS folded-corner effect Known support: Firefox 3.5+, Chrome 4+, Safari 4+, Opera 10+, IE 8+ This post is going to expand on the technique used to create the folded-corner effect that is part of the demo page for Multiple Backgrounds and Borders with CSS 2.1. As a starting point it will look to recreate the appearance of the note style used on the Yiibu's fantastic web site.