PHOTOGRAPHY
George Eastman House, International Museum of Photography and Film, Rochester, NY. PDE: Police Department Evidence. New York Police Department Photographs, 1915-1940s.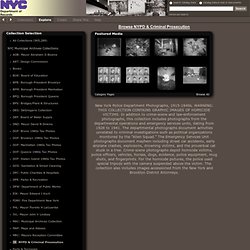 WARNING: THIS COLLECTION CONTAINS GRAPHIC IMAGES OF HOMICIDE VICTIMS. In addition to crime-scene and law-enforcement photographs, this collection includes photographs from the departmental operations and emergency services units, dating from 1928 to 1941. The departmental photographs document activities unrelated to criminal investigations such as political organizations monitored by the "Alien Squad. " The Emergency Services Unit photographs document mayhem including street car accidents, early airplane crashes, explosions, drowning victims, and the proverbial cat stuck in a tree. Crime-scene photographs depict homicide victims, police officers, vehicles, horses, dogs, evidence, police equipment, mug shots, and fingerprints.
The Long Exposure of Francesca Woodman by Elizabeth Gumport. Given that her complete catalogue is composed almost entirely of work she produced as a student, the posthumous critical esteem for American photographer Francesca Woodman is astonishing.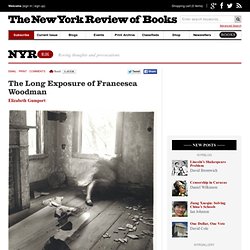 Unlike music or math, where precocious displays of talent are not uncommon, photography tends not to have prodigies. Woodman, who committed suicide in 1981 at age 22, is considered a rare exception. That she has achieved such status is all the more remarkable considering only a quarter of the approximately 800 images she produced—many of them self-portraits—have ever been seen by the public. Now, on the thirtieth anniversary of her death, Woodman is having something of a moment.
In coming months, her work will be shown by several British galleries, and later this year San Francisco's Museum of Modern Art will mount a major retrospective of her work, the first of its kind in the United States. Francesca Woodman. Alexandra Singer | Tea at The Grand Tazi- A novel. Empire de la Mort | Photographs of charnel houses and ossuaries by Paul Koudounaris.
British Journal of Photography. Picture Gallery | Lytro. Joni Sternbach Photography. ..Photographer - Lana Slezic.. Potography In Brady's Era. History of Photography Podcasts. The First Photograph - Overview. The First Photograph, or more specifically, the world's first permanent photograph from nature, was taken by Joseph Nicéphore Niépce in 1826 or 1827.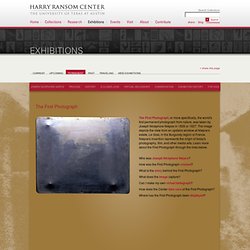 The image depicts the view from an upstairs window at Niépce's estate, Le Gras, in the Burgundy region of France. Niépce's invention represents the origin of today's photography, film, and other media arts. Learn more about the First Photograph through the links below. Who was Joseph Nicéphore Niépce? How was the First Photograph created? Photography. Home - World Press Photo. < home : Urszula Tarasiewicz photography. Yves Marchand & Romain Meffre Photography. The Photographers' Gallery | Home. Magnum Photos. Magnum Photos is a photographic cooperative of great diversity and distinction owned by its photographer members.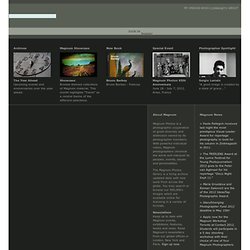 With powerful individual vision, Magnum photographers chronicle the world and interpret its peoples, events, issues and personalities. The Magnum Photos library is a living archive updated daily with new work from across the globe. You may search or browse our 500,000+ images which are available online for licensing in a variety of formats. Pete Muller Photography. Journal E: Without Sanctuary: Lynching Photography in America. Home : Kitra Cahana Photography. Joe Decker - Rock Slide Photography - Welcome. New Review's month in photography | Art and design. Grapehouse. Getty Images | Stock Photography, Editorial Photos, Footage & Music.
Canadian Museum of Contemporary Photography - Musée canadien de la photographie contemporaine. Burn magazine. The Big Picture. Many indigenous groups, including the Huni Kui, Ashaninka, and Madija, live in villages in the Brazilian rainforest near the border with Peru.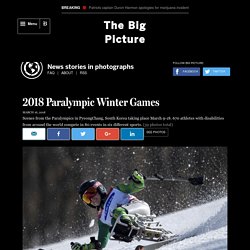 Over the past three years, the Ashaninka and Madija say that they have seen more and more incursions on their territory from uncontacted tribes, defined by Survival International as groups who have no peaceful contact with mainstream society. The "Bravos," or "Braves," as uncontacted Indians are called in the region, carry out raids on other villages, putting the communities along the Envira River on permanent alert. Leaders of the Ashaninka tribe have asked the government and NGOs for help in controlling what they consider an encroachment on their area by these uncontacted indigenous groups, stating that the movement of these other tribes is the result of pressure caused by illegal logging across the border in Peru. All photos by Lunae Parracho. --Reuters (26 photos total)
---