For A Party
Hey, sports fan!
Tailgating DIY Project: Paint Your Cooler for Team Spirit | Deals, coupons, savings, sweepstakes and more…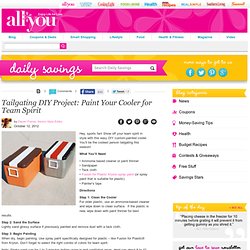 A Fabulous Fete: diy \ wrapped flatware
it's been a while. i know.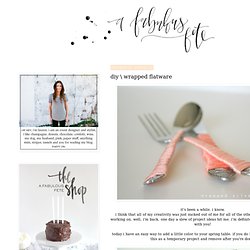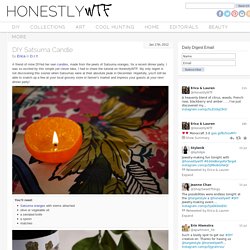 A friend of mine DIYed her own candles, made from the peels of Satsuma oranges, for a recent dinner party. I was so excited by this simple yet clever idea, I had to share the tutorial on HonestlyWTF. My only regret is not discovering this sooner when Satsumas were at their absolute peak in December. Hopefully, you'll still be able to snatch up a few at your local grocery store or farmer's market and impress your guests at your next dinner party! The stem side of the Satsuma will be the bottom and base of the candle. Lightly score a ring around the top 1/3 portion of the orange.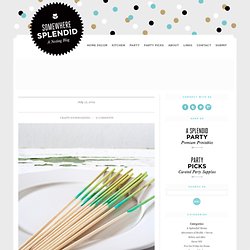 DIY Project: Ombre Dip Dyed Party Skewers | Somewhere Splendid
July 13, 2012
I recently picked up a couple of champagne coupes from a local thrift store for a buck a piece.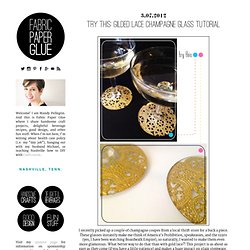 Try This: Gilded Lace Champagne Glass Tutorial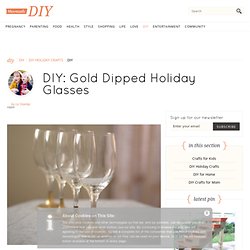 Turn any set of wine glasses into a gorgeous holiday entertaining set. Keep reading to see how to make these beautiful gold dipped wine glasses for your holiday party!
Gold Dipped Holiday Glasses
So now you've seen my interpretation of a Raven themed dinner party, I wanted to show you how I made the dinnerware.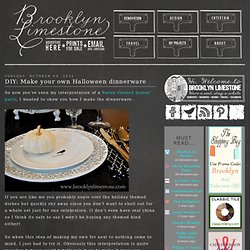 DIY: Make your own Halloween dinnerware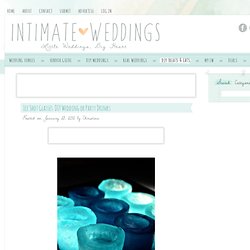 Ice Shot Glasses: DIY Winter Wedding or Party Drinks
Posted on January 25, 2012 by Christina Learn How to Make Ice Shot Glasses Inspired by Quebec's Hôtel de Glace I've always wanted to go to the Hôtel de Glace in Quebec.
Last month I got an email from one of those "deal of the day" websites featuring a very cute set of wine glasses with chalkboard stems from a company called Chalkboard China. I've seen chalkboard glasses before, and always thought them to be a fun and chic way for guests to keep track of their glass throughout the night so you don't end up with mixed-up glasses or dozens of half-full glasses left around the house. But all the ones I've seen in stores feature a strip of chalkboard paint across the bowl of the glass, which I've always felt looks awkward and takes away from the beauty of the wine or beverage in the glass. What I like about this version is that the writing part is at the bottom on the stem and foot of the glass, so it doesn't compete with the beverage. I also like that the simple black foot on the glass is in itself an elegant design element, and would work just as well with no writing on it.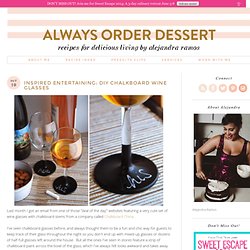 Wine Glass Candles
Mothers day is here and I know it's a little late to post a tutorial about a mothers day gift, but my mom reads my blog, so I couldn't post this without ruining the surprise for her :) I made her these two cute pink candles and it was actually pretty easy to do: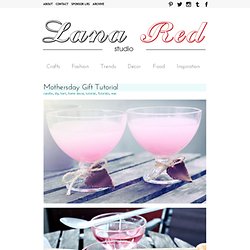 Gilded Plates