TODO
Download details: AD FS 2.0 Federation with a WIF Application Step-by-Step Guide
Download details: Virtual Machine Servicing Tool 3.0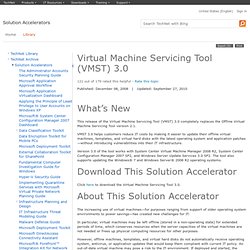 Virtual Machine Servicing Tool (VMST) 3.0
Published: December 08, 2008 | Updated: September 27, 2010 This release of the Virtual Machine Servicing Tool (VMST) 3.0 completely replaces the Offline Virtual Machine Servicing Tool version 2.1. VMST 3.0 helps customers reduce IT costs by making it easier to update their offline virtual machines, templates, and virtual hard disks with the latest operating system and application patches—without introducing vulnerabilities into their IT infrastructure. Version 3.0 of the tool works with System Center Virtual Machine Manager 2008 R2, System Center Configuration Manager 2007 SP2, and Windows Server Update Services 3.0 SP2.
Download details: Microsoft System Center Service Manager 2010 Dashboard
Supported Operating System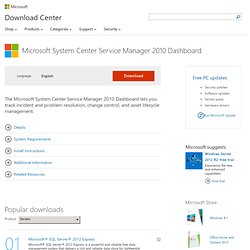 Download details: Forefront End Point Protection 2010 Security Management Pack
Download details: System Center Service Manager Authoring Tool SP1
Supported Operating System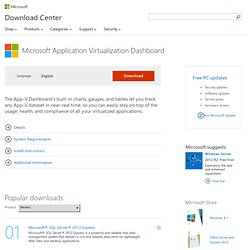 Download details: Microsoft Application Virtualization Dashboard
Download details: DPM 2010 Setup Pre-Requisite Checker Tool
Download details: Using IPsec to Secure Access to Exchange
Download details: Spec Explorer 2010 for Model-Based Testing in Visual Studio
Download details: December 2010 Security Release ISO Image
Test du Desire Z : le clavier physique de retour chez HTC !
Hotmail : bientôt des emails interactifs
InstallShield Features - Windows MSI Software Installation Package - Flexera Software