TODO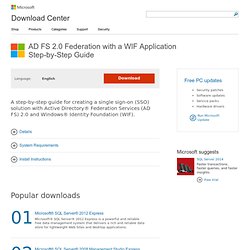 Overview This guide walks you through the setup of a small test lab environment that you can use to evaluate how Active Directory® Federation Services (AD FS) 2.0 and Windows® Identity Foundation (WIF) work together to provide a single sign-on (SSO) solution in your organization. This document is intended for developers and system architects who are interested in completing the demonstration of the features, functionality, and interoperability capabilities of AD FS 2.0 and WIF. The instructions in this guide take approximately one hour to complete.
Download details: AD FS 2.0 Federation with a WIF Application Step-by-Step Guide
Overview Virtual Machine Servicing Tool 3.0 helps you reduce IT costs by making it easier to update your offline virtual machines, templates, and virtual hard disks with the latest operating system and application patches—without introducing vulnerabilities into your IT infrastructure. This Solution Accelerator includes the following components: Brief Overview. Available online only on Microsoft TechNet . Summary for business and technical managers that briefly explains how this Solution Accelerator can fit into an organization's IT infrastructure management strategy.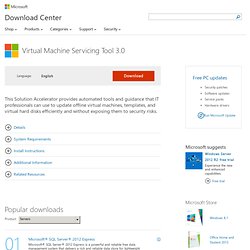 Download details: Virtual Machine Servicing Tool 3.0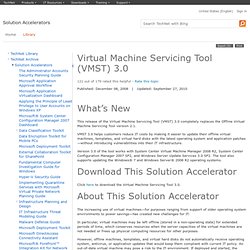 Virtual Machine Servicing Tool (VMST) 3.0
Published: December 08, 2008 | Updated: September 27, 2010 This release of the Virtual Machine Servicing Tool (VMST) 3.0 completely replaces the Offline Virtual Machine Servicing Tool version 2.1. VMST 3.0 helps customers reduce IT costs by making it easier to update their offline virtual machines, templates, and virtual hard disks with the latest operating system and application patches—without introducing vulnerabilities into their IT infrastructure. Version 3.0 of the tool works with System Center Virtual Machine Manager 2008 R2, System Center Configuration Manager 2007 SP2, and Windows Server Update Services 3.0 SP2.
Download details: Microsoft System Center Service Manager 2010 Dashboard
Overview The Microsoft System Center Service Manager 2010 Dashboard lets you track incident and problem resolution, change control, and asset lifecycle management—with an easy to use, customizable Web interface. Because the Dashboard is built on Windows® SharePoint® Services, IT staff can access information without using the Service Manager console. The Dashboard is a free Solution Accelerator, and fully supported by Microsoft. Top of page System requirements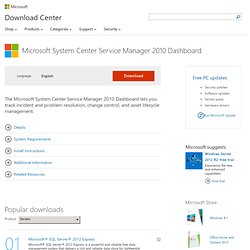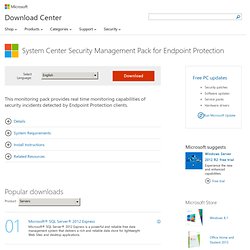 Download details: Forefront End Point Protection 2010 Security Management Pack
Overview The System Center Security Management Pack for Endpoint Protection provides real-time monitoring of your Endpoint Protection clients by using System Center Operations Manager. Alerts can be configured for virus activity, firewall downtime, or update failures. In addition to real-time event monitoring, the Endpoint Protection Security Management Pack also provides automated response capabilities to remediate security related issues. Feature Summary
Download details: System Center Service Manager Authoring Tool SP1
Overview The System Center Service Manager Authoring Tool is a tool for customization and extension of the builtin functionality in System Center Service Manager. This release supports modifying existing Process Management Packs and creating new Management Packs that define extensions to the Service Manager database for tracking additional information, customizations of forms or new forms, and new workflows. This release is available in 10 languages. Feature Summary: This release is compatible with Service Manager 2010 RTM or International with Cumulative Update 3 – KB2390520. It contains the final set of features for this version, including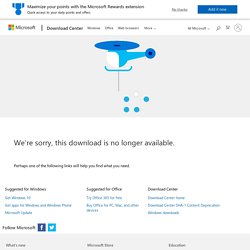 Overview Benefits of the dashboard include: Actionable information out of the box. The dashboard comes with a wide range of valuable, built-in reports like top 5 applications used, top 5 users, applications never used, application usage for a specific user, system utilization, and many more. Near-real-time access to key information. The graphical dashboard lets customers view any App-V dataset in near-real time.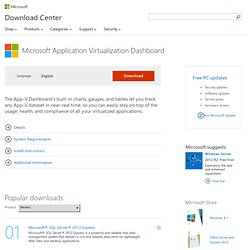 Download details: Microsoft Application Virtualization Dashboard
Overview The DPM 2010 Prerequisite Checker is a tool that helps you ensure that your computer has all the prerequisites required to install DPM 2010. Top of page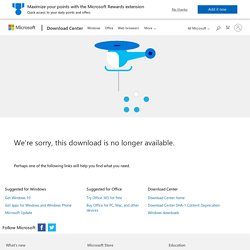 Download details: DPM 2010 Setup Pre-Requisite Checker Tool
Download details: Using IPsec to Secure Access to Exchange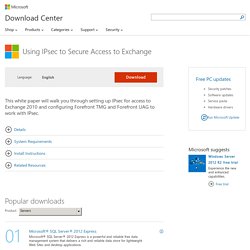 Overview By allowing remote access to Microsoft Exchange to users who are based outside the safety of the corporate network, an organization enables its employees to take full advantage of the technology their company provides. When considering remote access, an organization must also consider how to secure their corporate information. There are several different ways to secure access to corporate information, including VPNs, Direct Access, and IPsec. When enabling and requiring IPsec on the endpoint that's used to publish Exchange to the Internet, only machines with the right credentials can establish a connection. Microsoft offers two software-based options for publishing Exchange to the Internet: Microsoft Forefront Threat Management Gateway 2010 and Microsoft Forefront Unified Access Gateway 2010.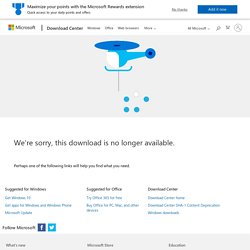 Download details: Spec Explorer 2010 for Model-Based Testing in Visual Studio
Overview Spec Explorer has taken the next step, becoming a Visual Studio Power Tool. This site is now obsolete. Its new home page is here . Top of page System requirements
Overview This DVD5 ISO image file contains the security updates for Windows released on Windows Update on December 14th, 2010. The image does not contain security updates for other Microsoft products. This DVD5 ISO image is intended for administrators that need to download multiple individual language versions of each security update and that do not use an automated solution such as Windows Server Update Services (WSUS). You can use this ISO image to download multiple updates in all languages at the same time. Important: Be sure to check the individual security bulletins at http://www.microsoft.com/technet/security prior to deployment of these updates to ensure that the files have not been updated at a later date.
Download details: December 2010 Security Release ISO Image
Test du Desire Z : le clavier physique de retour chez HTC !
Hotmail : bientôt des emails interactifs
InstallShield Features - Windows MSI Software Installation Package - Flexera Software
InstallShield has unparalleled Windows Installer support, giving you complete control over your MSI installations. Use InstallShield's powerful wizards, task-based views, and a full Direct Table Editor to easily enable your installs to leverage Windows Installer service benefits (such as install-on-demand, auto-repair, and installation rollback). With InstallShield you can easily create or edit an MSI file directly using rich views and create or edit a transform based on an existing MSI file. Plus InstallShield gives you enhanced control and error management capabilities with a MSI debugger, MSI differencing tools, and instant access to InstallShield Error Central. InstallShield offers you maximum power and flexibility by enabling any level of install customization.