TODO
Download details: AD FS 2.0 Federation with a WIF Application Step-by-Step Guide
Download details: Virtual Machine Servicing Tool 3.0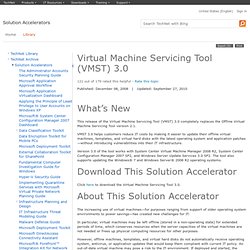 Virtual Machine Servicing Tool (VMST) 3.0
Published: December 08, 2008 | Updated: September 27, 2010 This release of the Virtual Machine Servicing Tool (VMST) 3.0 completely replaces the Offline Virtual Machine Servicing Tool version 2.1. VMST 3.0 helps customers reduce IT costs by making it easier to update their offline virtual machines, templates, and virtual hard disks with the latest operating system and application patches—without introducing vulnerabilities into their IT infrastructure. Version 3.0 of the tool works with System Center Virtual Machine Manager 2008 R2, System Center Configuration Manager 2007 SP2, and Windows Server Update Services 3.0 SP2.
Download details: Microsoft System Center Service Manager 2010 Dashboard
Supported Operating System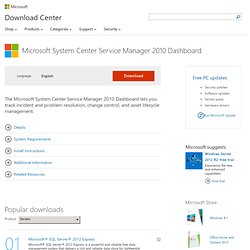 Download details: Forefront End Point Protection 2010 Security Management Pack
Download details: System Center Service Manager Authoring Tool SP1
Supported Operating System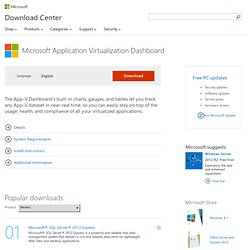 Download details: Microsoft Application Virtualization Dashboard
Download details: DPM 2010 Setup Pre-Requisite Checker Tool
Download details: Using IPsec to Secure Access to Exchange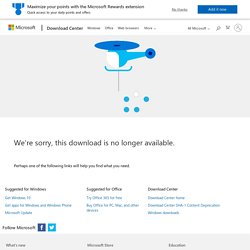 Download details: Spec Explorer 2010 for Model-Based Testing in Visual Studio
<a id="b7777d05-f9ee-bedd-c9b9-9572b26f11d1" target="_self" class="mscom-link download-button dl" href="confirmation.aspx?id=22099" bi:track="false"><span class="loc" locid="46b21a80-a483-c4a8-33c6-eb40c48bcd9d" srcid="46b21a80-a483-c4a8-33c6-eb40c48bcd9d">Download</span></a> Spec Explorer 2010 is now a Power Tool in Visual Studio Gallery. DetailsSpec Explorer Release Notes.docx Spec Explorer has taken the next step, becoming a Visual Studio Power Tool. This site is now obsolete. Its new home page is here.
Download details: December 2010 Security Release ISO Image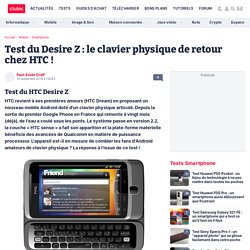 HTC revient à ses premières amours (HTC Dream) en proposant un nouveau mobile Android doté d'un clavier physique articulé. Depuis la sortie du premier Google Phone en France qui remonte à vingt mois (déjà), de l'eau a coulé sous les ponts. Le système passe en version 2.2, la couche « HTC sense » a fait son apparition et la plate-forme matérielle bénéficie des avancées de Qualcomm en matière de puissance processeur. L'appareil est-il en mesure de combler les fans d'Android amateurs de clavier physique ?
Test du Desire Z : le clavier physique de retour chez HTC !
Hotmail : bientôt des emails interactifs
InstallShield Features - Windows MSI Software Installation Package - Flexera Software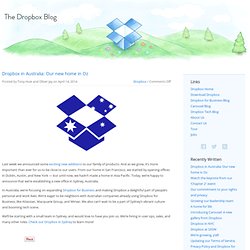 We're so excited this morning to kick off DBX, our first developer conference. Fort Mason is buzzing with energy from our incredible community of developers, designers, and partners. Back in 2007, when it was just the two of us coding in an apartment, we never imagined that six years later there'd be over 175 million people using Dropbox and more than a billion files synced each day. We're proud that Dropbox has become the home for millions of people's most important stuff.